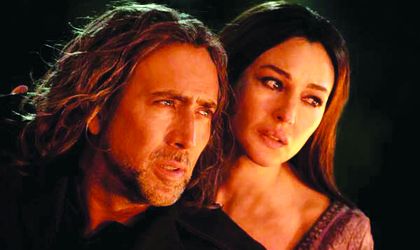 It's a sorcerer's world inside this Hollywood flick, but don't expect to be charmed. Really, isn't Hollywood tired of doing the same story over and over? It is only the faces that differ.
Spoiler alert! Here we have again the shy and clumsy boy nobody gives a damn about who has however hidden talents that others, and himself, are unaware of. His heart is stolen by a gorgeous girl – blonde, of course – but he is too shy to make a move. The young Jay Baruchel is pretty convincing in the role of nerdy Dave Stutler (you must have noticed the resemblance between "Stutler" and "stutter," of course). During a trip with his class, 10-year-old Dave falls for Becky Barnes (played by Australian actress Teresa Palmer). Because he is too shy to ask openly, he asks her in a note if she wants to be his girlfriend. She gives her answer, but alas! the wind takes the piece of paper away and he desperately tries to recover it, accidentally straying from the group. He ends up in an antique store which belongs to Balthazar Blake (played by Nicholas Cage), one of the three apprentices of Merlin. Turns out that Balthazar had been scouring the world looking for the Prime Merlinian, a descendant of Merlin who would be strong enough to oppose Morgana's plans to destroy the world. And what do you know? Balthazar discovers that the Prime Merlinian is just the scared boy in front of him, who has just committed the blunder of freeing Maxim Horvath (played by Alfred Molina), the second but evil apprentice of Merlin, who hates Balthazar to death because Balthazar – and not him – was chosen by Veronica (the third Merlin's apprentice), played by Monica Belucci. Horvath wants to free evil witch Morgana from the grimhold, a nesting doll which serves as a prison for both her and Veronica, so that Morgana can destroy the world. There you have it, the synopsis.
For all the scattered humorous moments and the special effects that make The Sorcerer's Apprentice enjoyable to watch at times, do not expect too much from this production. True, the cast is a crowd-charmer – after all actors such as Nicholas Cage and Alfred Molina have an impeccable reputation, not to forget the fact that the film's producer is Hollywood mogul Jerry Bruckheimer. However, Cage and Molina are not challenged by their roles – they play it neat and safe. Monica Bellucci, who is part of the lineup, is almost not there throughout the entire film: her role is confined to no more than a few sentences, moves, tears and sighs, over the course of several minutes. Of course, this production could not miss the traditional car race (except this time it's a race between wizards), the tear-jerker dialogue and the happy ending. All in all, it's a good pass-the-time movie you can show your kids, but if you want to be moved, go to Cinemateca instead.
Otilia Haraga
Director: Jon Turteltaub
Starring: Nicholas Cage, Jay Baruchel, Teresa Palmer, Alfred Molina, Monica Bellucci, Toby Kebbell
On at: Cinema City Cotroceni, Cinema City Sun Plaza, The Light