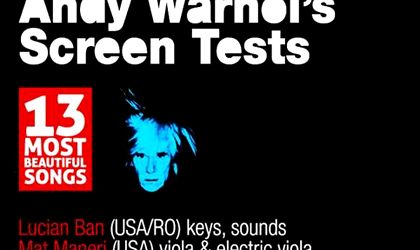 Grammy Awards nominee violist Mat Maneri and pianist Lucian Ban, of Romanian origins, will perform on Sunday at Green Hour Jazz Café in Bucharest. The 13 Most Beautiful Songs… a Soundtrack for Andy Warhol's Screen Tests project will consist of an audio-visual experiment, mixing live music with Warhol's cinematic creations.
The American viola player Mat Maneri thus joins the group formed by Lucian Ban, along with electro music composer Silent Strike and visual artist Dan Basu, and together they propose an original soundtrack to Andy Warhol's legendary screen tests.
The event takes place at Green Hours Jazz Café on Sunday, August 8, at 20.30. Tickets can be bought from the location (120 Calea Victoriei), and reservations are recommended.
Corina Dumitrescu