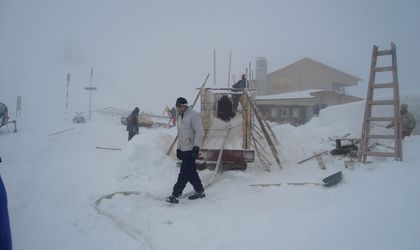 A new ice hotel is being built in Balea Lac, the focal point of the Ice Complex, which will include a church among other ice constructions, all part of the tourist marketing program Ice Hotel Balea Lac 2011.
The hotel will be built in the same location as in previous years, near the Balea Lac funicular. Its shape will be similar to last year, but the location will include more rooms, 14 in total. The structure will also feature a bar and restaurant. This year's theme is Ice Hotel – Light and Stones, each room bearing the name of a precious stone.
Given favorable weather conditions, Ice Hotel will be open by Christmas Eve, say organizers. Until then, however, visitors are invited to the construction site to observe the project's development more closely.
Corina Dumitrescu