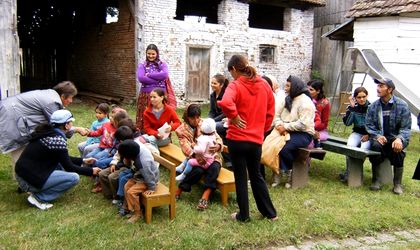 The competition launched this summer by Ovidiu Rom and the Education Ministry for local communities looking for financing to get underprivileged children into pre-school has attracted over 100 applications, the charity says. From the applicants, 14 have won USD 150,000 in financing to help them get every poor child in pre-school. The organizers had initially planned  to offer sponsorship for only five communities, but have increased the number of beneficiaries and the financing after receiving an overwhelming number of applications. Around 1,000 children will benefit from this project.
"Visiting communities around the country verified that there is an appallingly large number of poor children who have no access to kindergarten.  But the good news is that a lot of local mayors, school directors and citizens want to turn around this state of affairs.  As a consequence, we increased the number of selected communities from 5 to 14. We are incredibly grateful for the Alex Fund's willingness to commit additional dollars so we can do this.  We expect between 800 and 1000 children will be affected, provided that the local action groups translate their initial enthusiasm into action, " says Maria Gheorghiu, executive director of Ovidiu Rom, stated.
Ovidiu Rom and the Education Ministry, represented by secretary of state Oana Badea arrived at a shortlist of 43 communities.  Ovidiu Rom staff covered over 7,000 kilometers visiting all 43 communities (petrol provided by Rompetrol) and meeting with their local action groups.  
Ovidiu Rom has allocated approximately EUR 150 for every child between 4-6 whose family lives below the poverty line. In addition to providing food coupons to the families whose children have perfect attendance, these funds cover teacher training and educational resources.  Ovidiu Rom will oversee the distribution of funds and KPMG will audit the records.
The 14 local communities selected in the project are: Brasov county: Sacele and Tarlungeni, Buzau county: Ramnicu Sarat, Covasna county: Araci, Haghig, and Intorsura Buzaului, Dambovita county: Gura Sutii, Harghita county: Balan, Maramures county: Coroieni, Mures county: Band, Sslaj county: Jibou, Sibiu county: Altana, Brateiu, Rosia.