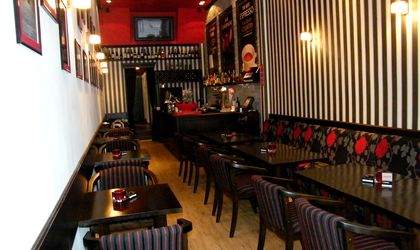 The Frenchman prepares new investment in Bucharest's more luxurious areas
Marc Rigonat, owner of Old Town Bistro in Bucharest's Lipscani area, has just opened a new location in Piata Muncii, on Decebal 29, Bourbon, part of a national franchise, including an estimate of 22 cafes across Romania. The French businessman is considering future investments in Bucharest's more luxurious areas and is not planning on leaving Romania soon.
Old Town Bistro (in picture), a renovated venue, was opened in April 2010, after a EUR 45,000 investment, a sum that Rigonat aims to recuperate in one year and a half, at maximum and even reach a profit. The average turnover so far was RON 55,000. Old Town is also preparing for a reconfiguration starting November for one or two days per week, when the 70 sqm cafe will morph into a more club-like location.
Bourbon, part of the Bourbon Cocktails and Coffee franchise chain, opened only a few weeks ago, already reaching an average of 100 customers per day. The 280 sqm location focuses on lounge and cocktail music and besides beverages, also serves various types of light dishes. Karaoke is part of the location's future features, along with some other special events still under preparation, intended to increase sales by 50 percent. The initial investment made by Rigonat in Bourbon is of EUR 60,000, which he hopes to recover in two years' time.
Rigonat, who has been in Romania for 2 years and has already gained experience in the HoReCa sector through his two venues opened this year, considers that Romanians are "more civilized and respectful" than his French counterparts as clients. Regarding financial power, Rigonat considers that Romanians and French are equal, at least on what concerns price – "you turn Euros into RON and obtain the same results", says the Frenchman.
As for future investments, Rigonat is planning on developing in the more luxurious areas of Bucharest, hoping to open new venues in Dorobanti or Amzei areas in one year's time, given the fact that rental fees will decrease by half. For around 80 sqm, the rent for Amzei area gravitates around EUR 6000, as Rigonat declares. In the Lipscani area, a realistic rent is of EUR 20/25 per sqm.
Corina Dumitrescu