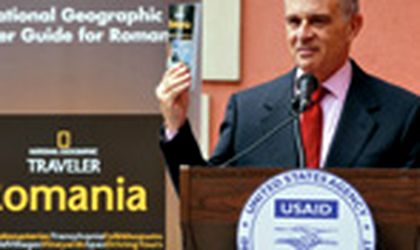 The guide will be published in English, Romanian, Dutch, French and Polish, and there is also the potential to extend the range of the foreign language translations to German and Italian. The Romanian translation is set to appear on the market in four to six weeks.
The guide was made by the National Geographic Society with financing from the United States government. The non-reimbursable funds came through the United States Agency for International Development (USAID) and amounted to approximately EUR 157,000 which included the production and translation into Romanian but also the free distribution of 1,000 copies in English and Romanian in local schools, tourism offices and agencies.
The guide will be published locally by Egmont Romania and will be available through all the Egmont distribution channels. Approximately 20,000 copies in English will be distributed internationally through the National Geographic outlets.
The National Geographic Traveler Guide is part of a series of such publications and Romania is the 57th country in the world to be included in the set of guides. "The guide was started 18 months ago and there are another four countries in the pipeline," Declan Moore, vice-president of the National Geographic Society, who attended the launch, told Business Review.
The National Geographic Traveler Guide launch took place at the residence of the US Ambassador Nicholas Taubman who stressed the importance of tourism as an industry, and specifically for Romania, the need to prioritize the problems that need to be solved. Among these, he mentioned infrastructure.
Otilia Haraga