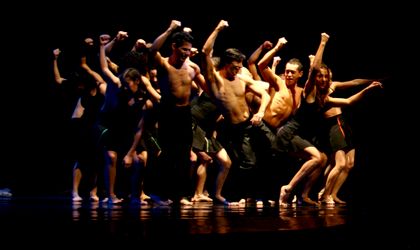 'El Banch' ('Noche Bach') is choreographed by Romanian Gigi Caciuleanu, a former principal performer of the Romanian Opera ballet company who trained with the Balshoi theater in Moscow. Caciuleanu left Romania in 1970s for France. Since then, his collaboration with great names of contemporary and classical ballet such as Maia Plisetskaya and Pina Bausch materialized in more than 250 ballets, staged all over the world. His collaboration with the National Chilean Ballet (founded in 1945) started 10 years ago, when he was invited to take over the artistic direction of the company.
"When I first came, I considered myself more like a technician, as they say in football, say Caciuleanu. "I tried to unite the Company around a philosophy of movement, what they call in Spanish, a 'mistica' (which shouldn't been confused with mysticism!)", he adds.
Caciuleanu, who has worked with major ballet companies all over the world, has the same approach when starting working at a new ballet. As an artist, he doubles his intuitive approach of the subject, with a post-creation phase analysis. Hence, the need to verbalize his creative process in front of the dancers his working with.
"I think it's very important that the dancers would understand my reasoning behind a certain piece, so in the beginning I do a short speech about what motivated me do that choreography. I put myself in the first moment of creation and try to transmit this through contamination," he confess.
What was the necessity behind 'Noche Bach'? A challenge, in the first place, says Caciuleanu. "I said to myself: Bach is Bach! It's untouchable! However, I remembered I first felt the music on the inside when my professor Miriam Raducanu, years ago, in Bucharest, asked me to perform together with her in a ballet piece called 'The Prayer', that she choreographed on Bach's music, says Caciuleanu.
The other approach was from the perspective of Pythagora's philosophy of the number, as one can detect behind Bach's music a mathematical organization. "As a dancer, one never thinks about that. The music has an immediat sensuality for you, as a dancer; you don't think about what lies behind the score. The music is simply beautiful! But behind this one can detect mathematical formulas. I started from this calculus."
For Caciuleanu, Bach's music has materialized in the shape of number 8. Why? "Because it's a number that we frequently encounter in dance," says he,"a number that can be also found in Bach's structure of the score. So, in response, I structured the ballet on the formula 4×4, and at the same time, taking in consideration the 8 cardinal points that govern the stage," he adds. The result is another type of link between thought and emotion.
"El Banch' has two parts. The first one is based on the mathematical abstraction of thought, on the idea that the body's actions are similar to the music of celestial spheres, through abstract connections, actioned by mathematical laws, that render an internal emotion," explains Caciuleanu.
For him, this ballet should convey a certain type of emotion which doesn't have anything to entertainment.
Anca Ionita
The National Chilean Ballet Company will have perform in Bucharest with 'El Banch', at the Enescu Festival, on September 4 and 5, at the National Theatre, Sala Mare, 19:30.