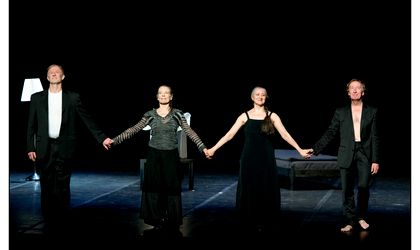 For this Quartet Gala performance, alongside Swedish dance and ballet choreographer Mats Ek and his wife Ana Laguna, other two legendary names will be on stage, Susanne Linke and Dominique Mercy. The four artists, selected by choreographer Daniele Cipriani for JTI Meetings, will perform an original gala – Quartet Gala – proving that despite the passage of time, or maybe exactly for this reason, the mature dancers are a vast wellspring of experience, emotions, wisdom, depth in a performance that will take place on October 7 and October 8 .
Mats Ek won the Europe Theatre Prize, which was awarded to him on April 26 in Craiova, Dolj County. "This prize represents the most prestigious European recognition in the field, being attributed to personalities or institutions which contributed to the creation of vital cultural events in the mutual understanding and knowledge of people. The winner has been designated for his entire artistic path, among the first-rate personalities of international theatre", notes the National Theater's website.
Mats Ek comes to the JTI Meetings for the second time, after presenting in 2005, as a choreographer of the Cullberg Ballet, three anthological works – Aluminium, original creation, Empty House and Negro con Flores, both signed by Johan Inger -, highly appreciated at that moment by the audience, the specialised press and the critics.
According to the official press release, Ek will perform together with Ana Laguna "The Potato and the Memory", giving the audience the truly unique opportunity to admire a famous couple dancing its "autobiography" and the rare chance to see choreographer Ek dancing.
"Potato is a dialogue of an established couple. A playful and morose look upon the "torment" of cohabitation, filled with contrasts, well conceived in its powerful drama and strewn with paroxysms of scathing humour. Memory (…) presents fragments from the daily life of the team formed by husband and wife, leaving to dance the power to suggest the amplitude of words left unsaid, bonding two human beings, treading on the same path of their existential journey", notes Leonetta Bentivoglio, theatre critic, quoted by The National Theater.
"That Paper Boy" will be performed by Dominique Merc, who will introduce the audience into the specific atmosphere of the Bausch Theatre. Moreover, the internationally acknowledged dancer and choreographer of German origin Susanne Linke will interpret "A Lost Solo…With Greeting To Dore", created in 2014 and based on the volcanic version of the fascinating creation The Rite of Spring, by Igor Stravinsky.
Tickets are still available at the ticketing counter of the National Theatre of Bucharest, in the Eventim network (Orange, Vodafone, Germanos, Carrefour stores, OMV gas stations, Cărtureşti, Humanitas bookstores) and online on www.eventim.ro for prices between RON 100-300.
Photo courtesy of JTI
Oana Vasiliu