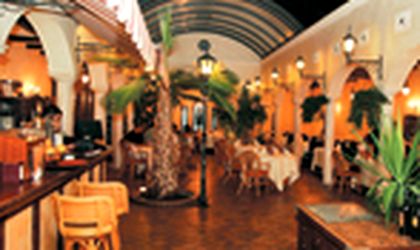 Its interior is pretty in a Disneyland kind of way, It has gas street lights, a bright well lit interior and predictable Spanish artifacts on the walls. Overall, it is corny in a humorous manner rather than being kitschy. So far so good.
But it is far from perfect. So on a baking hot day, we ordered a bottle of white wine. We selected the expensive wine from an expensive wine list, which inexplicably listed the alcohol content of each wine, Good God, does the House think that the clientele gives a flying toss as to whether the alcohol content is 12.5 or 13.0? It just gave an unprofessional first impression.
But our second impression was equally unprofessional, for we had to ask for an ice bucket to hug our wine. It was beyond my understanding as to why they didn't think of this themselves.
Equally unprofessional was their practice of mugging the diners with the odious, rip off, so-called 'cover charge' of a small RON 3.5 per person. At least they had the honesty to print this on the menu, unlike the other three local restaurants who fraudulently omit to print it, yet charge it at the end of the meal!
And still on a poor note, the Spanish people adore garlic – copious amounts of it. But the House does not, and all of the dishes we saw on the menu which should have been laced with garlic and cooked in a sea of wine, were not done so. This omission alone took away any Spanish provenance the House may wish to claim.
But let's move on to the more positive attributes of the House.
What we had was very good. Since I have de-bunked any Spanish connection, the menu can best be described as mid-European. There were plenty of starter dishes borrowed from Italy (think typical anti-pasta Italian menu) such as Buffala Mozzarella and tomato.They have an eye for accuracy since most restaurants list Mozzarella as 'Buffalo' which is hugely rude as the cow who renders you milk is a 'Buffala' and the bull who may well enjoy being 'milked' (like all of us boys do) is a 'Buffalo'.
There was Veal Carpaccio, Foie Gras Terrine and a good assortment of shellfish. We ordered Calamari, which came as a large, generous whole tube of squid, swimming in a sea of olive oil and butter, which mercifully distinguished itself from the usual breaded, mean squid rings which are so prevalent in lesser quality Bucharest restaurants. It was tender and cooked to perfection, so bravo House.
Another pleasant surprise was our Duck Leg Confit. I expected to get one juicy leg, but happily I had two. Again. It was tender and perfectly cooked in a wine and peppercorn sauce.This legless bird was not going to run anywhere as the rest of his plump little body was offered as an alternative Duck Breast in Mango Sauce.
But to my amazement they offered three variations of classic Spanish Paella, namely: with chicken, with shellfish or with beef. This is absolutely incorrect as in Spanish cuisine Paella is made with a combination of both chicken and shellfish. There are no variations of this dish whatsoever. We corrected the House and ordered it in the aforementioned manner – and it was excellent. But lacking garlic.
We loved our meal, as did our neighbouring tables whom we conferred with. But when you go there, be assertive and demanding regarding the seasoning, garlic and wine content of your chosen dishes. Just tell them how you want it done.
CHEF'S TIPS
We are in the middle of the basil season. This means that the Mediterranean's most fabulous, aromatic herb is not only in full bloom, but it grows free and wild all over Romania.
Because it is both sophisticated and delicate, it is ignored by Romanians and does not figure in Romanian food. It is too good for the uncomplicated burned offerings you get in all 'specific' Romanian restaurants. But it is sold in the few street markets where worldly wise Western palates go shopping, such as the over-priced Amzeii and Dorobanti markets.
But the good news is that you can still grow it in window boxes from seeds which are available in all garden centers. OK, let's cook with it.
The golden rule with basil is never to heat it. Always add it cold to a finished dish. The classic basil dishes are Pesto and Tappenade, both of which are so simple to make.
Pesto is simply fresh basil leaves, olive oil, Parmesan and dry roasted nuts, usually pine nuts. Just mush them up in a food processor or in a mortar and pestle – then die and go to heaven. Eat it like the Italians do, mixed into a pasta with nothing else added.
Your second Mediterranean treat is Tappenade which is claimed by both Italy and France as their unique invention. Well, who care who invented it? Just make it as follows. Mush in a food processor fresh basil leaves, olives, anchovies, olive oil, parmesan and capers. That's it!
Serve on warm toast as the world's most simple, yet impressive savoury dish.
Michael Barclay
mab.media@dnt.ro