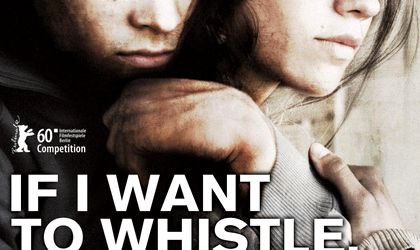 The fifth edition of local movie awards gala, Gopo, brought Florin Serban's much praised movie into the limelight, on March 29, at Crystal Palace Ballrooms. The film If I Want to Whistle, I Whistle stole the show, winning in the Best Film and Best Director categories.
In the Best Film category, the movie competed against Tuesday After Christmas (directed by Radu Muntean), The Autobiography of Nicolae Ceausescu (directed by Andrei Ujica), Medal of Honor (directed by Calin Netzer) and Morgen (directed by Marian Crisan). Serban's film also received the Best Supporting Actress award for Clara Voda's performance.
Although some voice were supporting less popular film Medal of Honor as winner of the Best Film category, the movie did receive a notable award in the Best Script and Best Actor sections. Victor Rebengiuc received the Best Actor award, while its best actress equivalent went to Tuesday After Christmas leading role star, Mirela Oprisor. The Autobiography of Nicolae Ceausescu was ranked as Best Documentary and Best Supporting Actor was named Bogdan Dumitrache in Portrait of the Fighter as a Young Man (Portretul luptatorului la tinerete).
The Gopo Awards (Premiile Gopo) are the national Romanian film awards, similar to the Academy Awards (U.S.A.), the Goya Awards (Spain), or the César Award (France). They were established in 2007 and were named in honor of Romanian film director Ion Popescu-Gopo. The trophy is a sculpture by Romanian artist Adrian Ilfoveanu representing Gopo's Little Man, the main character of Gopo's animation films.
Corina Dumitrescu