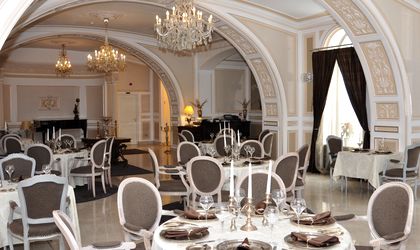 Concerto. Grand Hotel Continental, 56 Calea Victoriei. 0372 010 300
Hotel restaurants. Hmm. Unless you've never set foot in anything below a five-star hotel, you've probably arrived somewhere late and endured a miserable meal in a dreary hotel eatery, with a TV blaring in a corner and menu and waiter dragged reluctantly out of the 1980s. Even upmarket hotel restaurants can be uninspiring, churning out middle-of-the-road cuisine that offends and delights nobody, surviving on business travelers' expense accounts.
If the quality of a product can be indicated by its number of customers – and the success of Coke and McDonald's suggests not – the signs were not good, as only one other table in the restaurant was occupied. However, everything else was more promising. The predominant décor was elegant monotone, white, black and gray. Furniture and furnishings were classical in style, and silver plates and fancy condiment holders adorned the tables. A grand piano sat in an alcove and chandeliers hung from the ceiling (where else?). But the aesthetic never became overbearing.
The music – mostly traditional jazz – was the right genre for the restaurant and played at the right volume. And the service was similarly well pitched. Some waiters working in empty restaurants have a tendency to disappear for long stints, leaving you glancing around like a meerkat when you need your glass refilled or the bill bringing over. Not here: our waiter was the one waiting on us, not us for him. He had the balance between attentive and unobtrusive exactly right and was also friendly and knowledgeable about the menu.
Which is another plus point. On just two pages, this is the sign of a confident kitchen that knows its onions. The first items – the soups – set the ambitious and appetizing tone: quail consommé, basil cream and seafood cream. We had the latter, a delectably dense piscatorial delight which punched well above its RON 28 weight. The salads and cold entrees ran from RON 39 to RON 89; highlights were Bangkok Thai salad, and poached tiger shrimps.
Hot starters and entrees (RON 32 to RON 99) included risotto with asparagus sprouts, pan-seared foie gras (which ethics precluded, to the chagrin of my taste buds) and Coquille St Jacques, prawns and scallops in a subtle sauce made of cream, white wine and fish stock. It was not until halfway through that I discovered the final visual flourish – it came served in a shell! Concerto's fare is nouvelle cuisine, which favors lightness, delicacy and appearance. So every dish was exquisitely presented.
Having overfished, so to speak, with our openers, we passed on the salmon, monkfish and halibut (RON 60 to RON 89) and got stuck into meatier mains: ostrich steak with balsamic and honey vinegar, and New Zealand lamb. (Tournedos Rossini and duck breast in bordelaise sauce were also among the options, which ran from RON 39 to RON 109.) Both came according to specifications; the lamb in particular was beautifully tender. A couple more vegetarian options would round out the menu.
Desserts (RON 20 to RON 39) include sorbet, honey parfait with pineapple carpaccio, banana grille plus cheese and fruit selections. Wines start at RON 80 for a bottle of Romanian red, and go up to as much as you want to want to pay for South African or South American varieties; spirits and long drinks start from RON 15. I settled for a perfectly acceptable glass of house red (though overpriced at RON 37).
It's not cheap here (though if you order prudently and stick to soft drinks you could pay about the same as you would at other places not half as good). However, glass of house wine aside, Concerto offers superb value for money. Quality, presentation, service and ambience were all faultless. Hotel restaurants one, reviewer preconceptions nil. Let the music play.
Debbie Stowe