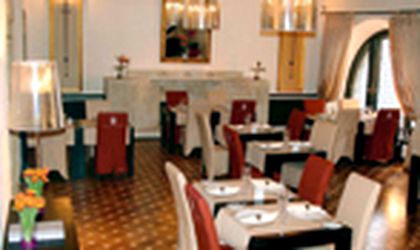 If further proof be needed, we were also spoiled with copious amounts of the finest Champagne (Perrier Jouet's la Belle Epoch) and a profusion of additional dishes including oysters, lobster, scallops and truffles to chew on like sliced apples.
We were a discreet party of guests numbering less than 100 and it was clear that they were auditioning their services – and why not? So with their new menus in place after a period of one year, it is time to look them over again.
But first, let me lay to rest the misconception that Heritage is overpriced, for it is not! I ask you to bear two things in mind, namely: the same persons who moan about high prices in Bucharest have no problem paying the same prices in Europe, and if the Bucharest House is paying European salaries to their Chefs and incurring Western prices for quality imported foods, it is reasonable to charge such a price.
In this context Heritage is not expensive. And to prove the point they now have a business lunch menu with two-three 'dishes of the day' together with one glass of wine at a price between 75-100 RON which considered in the context of their skilled chefs and imported ingredients, is a bargain.
And in the same spirit they also offer fixed price menus in the evening with Marseille's most famous creation 'Bouillabaisse' followed by 'Truffled risotto with seasonal mushrooms made with Veuvre Cliquot champagne and mature Parmezan' followed by 'Bavarian Beef Fillet Beaujolais in a marrow and tomato sauce' rounding off with a dessert of your choice. This is four courses for a mere 165 RON.
So let's continue by looking at their a la carte menu. We fell in love with their 'Shellfish soup with Paimpol Coco beans from Brittany, leek, truffle, oysters, chicken oysters and cress' at 62 RON, and their Bouillabaisse with a traditional topping of Roullie which I normally make as a thick sauce from mayonnaise, hot chilli powder, garlic and tomato paste. Doubtless the House has an alternate or even better version.
There was so much more and far too much for me to write in this one page. Suffice it to say, it was French haute cuisine, light and contemporary and thankfully with the addition of the chef's creative twist, rather than being dominated by the rigid lines of classical cooking.
Finally, and to cover all the bases, they even have a sushi bar with prices starting at 9 RON. Dammit, if you are still not tempted to go there to eat, then go there to shop. They have a 'Terre Exotique,' a food outlet in-house which Americans would insult the quality of the good by calling it a 'deli'. Well, it is much more than that with a small selection of the finest food products I have seen other than in Harrods.
The last word must, yet again, go to their prices. They have been most cruelly maligned over the last year by their potential clientele complaining about their prices. I wonder how many of those persons ever ate there – very few I would guess! To put the whole matter to rest, by comparison a Sunday brunch at your favourite hotel could cost you a lot more than a meal at Heritage and of course, the latter has the advantage of not being a buffet.
Michael Barclay