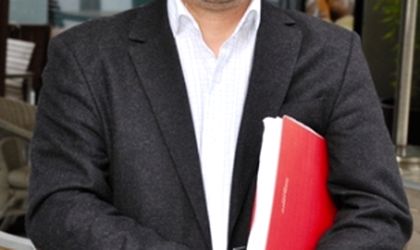 Marius Tudosiei began his professional career in 1996 as a journalist, and after four years switched sides for marketing. At the end of last year he quit his job as marketing manager at Jurnalul National and, at a time when other businesses were going bust, decided to start his own grocery store.
Simona Bazavan
Early next month, following a EUR 15,000-18,000 investment, Tudosiei will open Bacania Veche, a grocery store that aims to offer food with a story. "Bacania Veche is a place where I will bring healthy food, not dietetic food, not necessarily bio food, not food for diabetics, but healthy Romanian food and more," Tudosiei says. His motto is "no preservatives, no colorings or other chemical additives". In this way and with a wide range of products he hopes to differentiate his store from bio food stores and other similar shops in Bucharest.
He got the idea one and a half years ago when he realized that he was spending too much time searching for the food he wanted for himself and his family. He then began to ponder the possibility of turning his passion for food into an actual business. The store is not his first start-up attempt, but retail, as he acknowledges, is unknown territory for him, although something that he is willing to learn. "I do something that I'm passionate about and others enjoy and appreciate, and so I'm confident about the outcome," he says.
Bacania Veche, which is intended to be a family business, will offer a range of traditional products from all Romania's geographical regions as well as more or less exotic international products. "For generic grocery products I will work with importing companies, but the suppliers which are dearest to me are the individual, local traditional producers. There are thousands of such small businesses and all have incredible stories. They just need to be discovered," Tudosiei adds.
Bacania Veche will feature traditional meat products, dairy products, wines, all sorts of traditional preserves, in-season fruit and vegetables, less conventional kitchen implements and a bakery where he intends to do the baking himself. There will also be products offered under the Bacania Veche brand, and as of this fall Tudosiei plans to launch an in-house product line called De la Dersca.
"I hope that everyone who enters Bacania Veche rediscovers tastes of their childhood, the memory of their grandparents and what they used to eat when they were children," he says. The store targets customers who are interested in more than a healthy diet and have above-average incomes.
Bacania Veche is located on Barbu Vacarescu Boulevard in an interwar house and has a surface of 40 sqm. Tudosiei invested about EUR 18,000 in setting the place up and says that he intends to spend at least the same amount each year on upgrading the store. He got the money from personal savings, family and friends, as he says he didn't find any bank willing to invest in a start-up project. His plan for the first year is to be able to pay all his due debts but in the near future, he would like to make enough to finance workshops and social campaigns for children about the importance of a healthy diet.