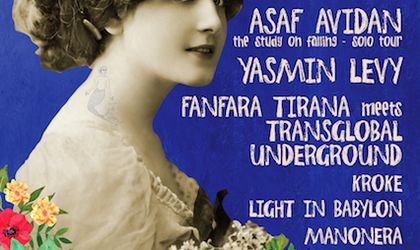 Balkanik! Festival is Bucharest's leading world music festival and will start in few hours. Hosted by Gara Regal Baneasa, it welcomes to Bucharest a variety of artists with a passion for the music of the Balkans. The line-up usually provides a good mix of Romanian and foreign artists that keep the crowds dancing all night. Let's see why is a must!
The headliner of this edition is Israeli Indie singer Asaf Avidan, who will begin his solo tour "The Study on Falling" in Bucharest. He returns in Romania once again and he will probably delight the Bucharest's public with his incredible talent. Check it out:
An authentic balkan party consists of a taraf. And Taraf Tirana is pretty amazing. For this edition of Balkanik Festival, they will perform with Britain's eclectic Trans-Global Underground. They team up for a dynamic cross-border, cross-cultural jamboree. Drawing on a Tom Tiddler's ground of musical treasures, Balkan and otherwise, they exchange ideas, melodies and lyrics to tell new tales of mystery and re-imagination in a sparkling celebration of life, love and solidarity with its roots in history and its sights on the future. Play it to get into the vibes:
The after parties of the festival are held at Younivers Summer Club where a pool awaits for those getting hot courtesy of the music. Tonight will perform the great Fanfare de la Cozmesti, tomorrow Dan Ciotoi and Generic band – you shouldn't miss them, brings you back to Romania's 90s atmosphere.
Meeting, greeting and sustaining Manonera, a new Romanian band. Lucas Molina, Cosmo and Simion Bogdan-Mihai are the three members of Manonera, a Romania based group of artists and performers playing an unique fusion of Fiddler Music (Roma Folk music), the settled Roma people music, Tango, Flamenco, and Turk Halk Muzigi (Oral music from Turkey, with extension in the Balkan Peninsula).
For everything the festival has to offer: a crafts fair, a young artisans' fair, video mapping, photography exhibitions, live performances, an international food court, dance, poetry and more.
Be aware that there will be some traffic restriction in Gara Baneasa zone. If you didnt get your subscription yet, you will find tickets at the entrance for RON 160.
See you there!