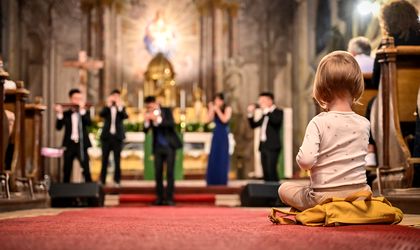 Sibiu's churches come alive with joy during the festival, offering a diverse range of musical genres from jazz to gospel and fado. Over the course of ten days, the public has the opportunity to experience a unique and enchanting array of emotions conveyed through music, heightened by the sacred walls of these magnificent churches. Business Review talked with Anca Arnau, the coordinator of the Music in Churches program, shedding light on these magical moments.
How did you become involved with FITS and assume the role of coordinating events held in places of worship?
It happened six years ago when I started my collaboration with the 'Radu Stanca' National Theatre. The main coordinator for outdoor events, Dan Bartha, discovered my artistic and musical experience, and he thought it was a good idea for me to take over the 'Music in Church' program.
Could you shed light on the process of negotiating the use of these sacred spaces for performances? Do church representatives typically inquire about the thematic content of the songs or shows beforehand?
Fortunately, most representatives of all the churches in Sibiu welcome the collaboration with the festival. When we have a draft schedule, I personally contact each and every one of them to confirm if a new collaboration is possible. Then, considering the religious events taking place in each church, I send the program we would like to present during the festival, along with some YouTube links featuring the artists.
How many churches are open within FITS this year? Can you provide a list of these churches?
We have maintained a constant collaboration with the same churches for the past few years, which amounts to about seven. This year, we are also collaborating with the St. Ursula Greek Catholic Church, Sf. Mary Evangelical Cathedral, The Holy Trinity Roman Catholic Church, The Reformed Calvin Church, The St. Francis Church, The Synagogue, and the Evangelical Church in Cisnadioara.
Are there any specific limitations or guidelines regarding the genres of music that can be performed during a church concert?

Yes, absolutely. We must bear in mind that it is still a specific and unique place. Therefore, we can only present concerts that do not involve too many instruments or artists. We have been consistent in the types of events being presented in churches, such as Gospel choirs, Fado musicians, classical or theatrical performances, light jazz, and more.
Please share with us the most awe-inspiring moment you have personally witnessed during a concert held in a place of worship.
There have been numerous emotional and unique moments during the concerts because each artist brings something different to their performance. They share a part of their own culture with us, and it's impossible not to feel that incredible energy and happiness when you see people leaving with tears in their eyes or a big smile on their faces. You simply know that it was indeed a remarkable and unforgettable event.
What is the audience like at such an event? Do locals attend? Do they have curiosity about the space?
The audience at these concerts in churches comprises a diverse range of people. Most of them are fans of the specific type of music being performed, and there are also many locals in attendance. As you pointed out, there is also a third category of people who come out of curiosity to visit the space, which they find fascinating most of the time.
From an organizational standpoint, what are the notable advantages and benefits of hosting a concert in a church?
I believe the most notable benefit is that the audience not only witnesses a wonderful musical event but also becomes captivated by the beauty of the venue where the event takes place. It is not a common auditorium; it's a sanctuary and a part of the history of the Sibiu community, which we are delighted to share with our audience.
Highlights from the music programme:
London International Gospel Choir, directed by: Nina Rosenberger – on June 29 – 30, July 1, details here.
Fado with Inês Brito, Directed by: Joana Assis Pereira – on June 30, July 1-2, details here.