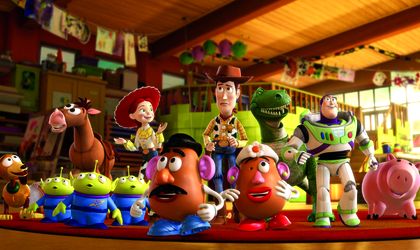 You know you're getting on a bit when films and songs that you think of as fairly recent turn out to be 15 years old. Take Toy Story. Bunch of talking toys, the astronaut, the cowboy, to infinity and beyond, newfangled computer animation, probably came out a few years ago. Nope – 1995.
Four years later came a sequel – which did even better than the first one – and since then nothing. Maybe toys who come to life were a bit too old school for today's kids, raised to master iPods and iPlayers before they can use a knife and fork.
But, lest any cynic think that Disney is desperately dragging some old stalwarts out of the archives to guarantee its execs a recession payday, Toy Story 3 is one of the best movies – not just animations – to come along for a very long time.
The visuals are a joy, and only helped by being rendered in 3D, putting you at the heart of the action. But the picture doesn't just rely on technical gimmickry. Tension and drama abound, and you'll find yourself caring more about these CG creations than you do about most human movie characters. At times action-thriller, at times knowing comedy, at times tear-jerker, the film is immensely satisfying and carries the viewer with it, never flagging for a second.
Respecting the chronology of parts one and two, Toy Story 3 sees Andy, child owner of Buzz, Woody and co, all grown up and about to head off to college. Clearing out his room and packing his stuff, Andy must decide what to do with his old playthings: take them with him to college for the sake of nostalgia, find a new home for them, stash them in the attic, donate them to a nearby daycare centre or toss them in the trash. After a mix-up, the gang finds itself on the way to Sunnyside Daycare, a nursery school that seems too good to be true. Which of course it is – the toys are plunged into a Lord of the Flies style nightmare, and must bust their way out of their new prison.
It's Disney, so the premise is simple, the characters not overly complex and the morality black and white. But the movie is so much more than a trite tale for children. Above the obvious kid-centered comedy is a cheeky layer of wry adult humor, much of it character driven. A hilariously camp Ken is more appearance-obsessed than any Sex and the City fashionista, and there is a fabulous sequence in which he parades his numerous flamboyant outfits on an imaginary catwalk. New character Mr Pricklepants brings a well observed thespian seriousness to his roles in simple children's games. And there are also amusing allusions to the prison film genre, such as when one of the incarcerated toys plays plaintively on a harmonica.
A potential downside for foreign viewers is that rather than the subtitles that accompany live action films, Toy Story 3 is dubbed. However, a smattering of Romanian is enough to grasp the basic plot, and even if you don't understand a word, the movie is sufficiently visual that you'll still have a marvelous time. They may be only toys, and computer-generated ones at that, but if the average Hollywood production were even half as engaging as the latest adventures of Woody and chums, it would be a vast improvement.
Debbie Stowe
Director: Lee Unkrich
Starring: (voices in English language version) Tom Hanks, Tim Allen, Joan Cusack
On at: Cinema City Cotroceni, Cinema City Sun Plaza, Samsung IMAX, Cityplex, The Light