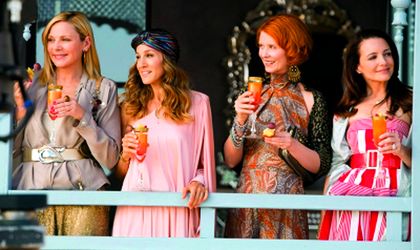 It's too long. The plot is lame. The actresses look old. It's not set in New York. It's racist. It's anti-Muslim. It's anti-feminist. It's not funny. The acting is bad. It's not as good as the series… Perhaps the only criticism not leveled against the latest Sex and the City installment is that it is responsible for the Gulf of Mexico oil spill. Carrie and co's latest outing has attracted media censure sharper than a Jimmy Choo high heel. Anyone who now pitches up and pays their money for SATC2 can surely only expect to be bored by the tedious story, insulted by the cultural insensitivities and revolted by the hideous appearance of the stars.
All of which is by now probably working in the film's favor. Because – providing you take the movie in the spirit it was intended and are not hoping for Citizen Kane – Sex
and the City 2 is really rather enjoyable.
Two years have passed since the events of the first film, in which Carrie finally marries Big, Charlotte finally has a baby, Miranda continues to juggle work and family life and Samantha continues to juggle lots of men. But all is not rosy in the Manhattan garden. Charlotte is a frazzled mom – albeit still an immaculately groomed one – because her kids cry all the time. Miranda is being belittled by a sexist boss and is plagued with guilt over being a part-time parent. And – worst of all – Big has installed a ghastly plasma TV in the bedroom as a misjudged anniversary present for Carrie, proving that he is guilty of the most cardinal of all SATC sins: bad taste. (Having rejected commitment and babies for rampant sex with attractive men, Samantha is of course as happy as ever.)
After a gay wedding so camp that it makes Eurovision look understated, the women head off on Samantha's freebie PR junket to Abu Dhabi, where the majority of the action takes place. It might be camels and burkhas instead of cosmopolitans and Blahniks, but the New Yorkers still find plenty of the fashion, glamorous locations and male totty that they enjoy in the Big Apple.
Their Arabic adventures include the reappearance of an old flame, cultural misunderstandings, inner soul baring, self-empowerment, shopping (obviously), ogling men, puns and other lynchpins of the series and first movie.
Some of the criticism is partially justified. The Middle East depicted by the film is indeed a collage of clichés and silliness. But expecting serious political treatment from SATC is like shopping for authentic Chanel at Obor Market: you're looking in the wrong place. What seems to lie behind the most vitriolic of the opprobrium is a toxic Hollywood mix of sexism and ageism: disapproval that women in their 40s and 50s – with (gasp!) some wrinkles on their faces – can be the focus of a movie in their own right, with the male characters the appendages and eye candy for a change, that such women expect to enjoy fulfilling careers and sex lives on their own terms.
Okay, the only Oscar that Sex and the City 2 is ever going to get near is Oscar de la Renta, but in these times of austerity, here is a movie that is colorful, frothy and fun, an escapist fantasy that touches on the issues of modern women's lives but with a helping of glamour. And with third and fourth chapters mooted, it looks like the critical thrashing will not have New York's fab four hanging up their high heels yet.
Debbie Stowe
Director: Michael Patrick King
Starring: Sarah Jessica Parker, Kim Cattrall, Kristin Davis, Cynthia Nixon