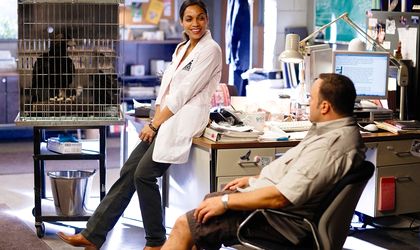 Set your faces to stunned, because animals can speak! Yes, every night, Boston's Franklin Park Zoo becomes a veritable talking shop as lions, monkeys, giraffes, elephants and their jungle chums let themselves out of their enclosures and gab away until dawn. Who knew? Not Griffin Keyes, titular zookeeper (Kevin James). The zoo creatures don't want humans to know they can talk, see, so they observe a vow of silence, an omerta of the animal kingdom. Think of the movie as a zoo-based sub-Night at the Museum, to which it clearly aspires.
However, everything changes when Griffin contemplates quitting his job, leaving the zoo inmates at the mercy of cruel zookeeper Shane (Donnie Wahlberg), who is Mean To Animals. (This being Hollywood, there are not many sins that outrank being Mean To Animals, so the alert viewer may quickly deduce that Shane is destined for an unhappy ending.) The reason behind the sundering of Griffin and the zoo is, of course, lurve. Because gals just don't dig zookeepers. Griffin's stunning-yet-shallow girlfriend Stephanie (Leslie Bibb) callously dumps him over his lack of prospects, and he concludes that the only way to win her back is to take a more glamorous job selling sports cars for his brother. So, the zoo animals start dispensing comical relationship advice to Griffin, which, after being mildly shocked for about thirty seconds, he soon takes in his stride and follows. Meanwhile, his stunning-and-not-shallow-as-she's-wearing-a-lab-coat veterinary zoo colleague Kate, complicit in Griffin's plan to make Stephanie jealous, begins to develop feelings for the zookeeper. Ooh, how will it end?
It has to be said that the film's central premise is utterly unbelievable. Not that animals can talk, but that two beautiful women like Dawson and Bibb would both be chasing this guy. James's last main role was as a "mall cop" and he's now playing a zookeeper, which should tell observant readers that he is no Brad Pitt. The movie is also vague on why selling cars is a copout career choice when helping keep wild animals in captivity so charmless kids can gawp at them is noble.
So, it's utterly preposterous, morally questionable and as predictable as the sun rising. But, gosh darn it, didn't Zookeeper start to work its silly charm on me. The ordinary Joe likeability of Kevin James – how many other 100kg-plus actors are playing romantic leads? – some funny lines and an endearing daftness make this summer flick childishly entertaining.
Directed by: Frank Coraci
Starring: Kevin James, Rosario Dawson, Leslie Bibb
On at:  Movieplex Cinema Plaza, The Light Cinema, Hollywood Multiplex, Cityplex, Corso, Cinema City Cotroceni, Cinema City Sun Plaza, Baneasa Drive-In Cinema