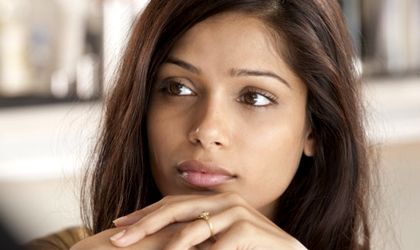 Directed by: Woody Allen
Starring: Naomi Watts, Josh Brolin, Antonio Banderas, Anthony Hopkins, Gemma Jones
On at: Cinema City Cotroceni, Cinema City Cotroceni VIP, Cinema City Sun Plaza, Movieplex Cinema Plaza, Hollywood Multiplex
A film by Woody Allen is always a must-see and his latest is no exception. The prolific director might have had his share of not-so-critically-acclaimed mishaps, but this is not one of them. Somewhere between a comedy and a drama, You Will Meet a Tall Dark Stranger showcases Allen's well-known humor and cynicism, telling stories of the 21st century, whose characters cannot escape a stern destiny.
The film sews its plot around a family of three, Alfie (Anthony Hopkins), a well-off septuagenarian, his former wife Helena (Gemma Jones) and their almost chronically unlucky daughter Sally (Naomi Watts). Their already fragile universe collapses when Alfie decides to divorce Helena, since she was ready to accept the inevitable process of aging and he was not, deciding to regress to the life of an immature adolescent, seeking young love. He does find this love, falling head over heels for prostitute Charmaine (Lucy Punch). Helena, however, falls into depression after being cowardly left by her husband, resorts to alcohol and falls into the clutches of a fortune-teller, who assures her that she will eventually meet "a tall dark stranger", who will help her fall in love again. Meanwhile, daughter Sally is unhappily married to a "one-hit-wonder" novelist, Roy (Josh Brolin), whom she supports through her job at an art gallery, still requiring financial aid from her nagging and ever-unsatisfied mother. Roy, however, gets his own "tall dark stranger", in the form of a young woman portrayed by the charming Freida Pinto (in picture).
Woody Allen's presence makes itself felt through the narrator's voice, which stands out as one of the few with an American accent. The director's presence also adds amusement to the ruthless, yet somehow well-deserved, destiny that the characters get. It also assures the viewer that this is just a story and he or she should not take it too seriously, because, perhaps, in life, things do not always go by the rules.The advantage of being Woody Allen? Well, there are perhaps too many to enumerate, but one of these may be his ability to choose any given actor for his films. In this case, the cast is as impeccable as ever. Although Nicole Kidman was one of the director's choices for the role of Charmaine, the lesser-known Lucy Punch did pretty well as the clumsy and confused prostitute.
This may not be Woody Allen at his best, but given the almost unbearable light comedies and adventure films filling cinemas lately, it's definitely worth the price of the ticket.
Corina Dumitrescu