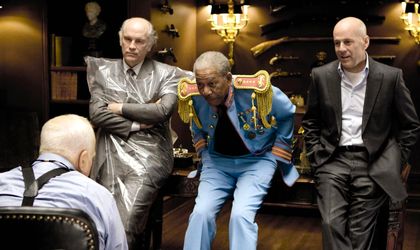 Helen Mirren. John Malkovich. Morgan Freeman. Bruce Willis. (Okay, maybe Bruce's thespian caliber falls a little short of the others, but when there is simultaneous ass-kicking, wise-cracking and white vest-sporting to be done, he is peerless.) With a cast of this quality, you'd probably buy your ticket for Red on the strength of those names alone. Caveat emptor! The top-class talent is wasted on this mess of a movie, part silly action, part lame-brained comedy, with a romantic subplot shoehorned in for the hell of it.
Lest the title suggest that Willis is a tough-guy communist, single-handedly taking on the evil forces of capitalism (an unlikely piece of casting), be informed that Red is an acronym for ridiculous empty-headed drivel – sorry, retired, extremely dangerous. And retirement can be a challenge, especially when you used to bust bad guys for a living. Erstwhile CIA black-ops spook Frank Moses (Willis) finds himself sitting at home in suburbia, passing the time by flirting on the phone with a secretary at his pension firm. Life is pretty quiet, until a hit squad blasts Frank's house to bits in a bid to kill him.
Clearly somebody wants Frank out of the picture. So he assembles a team of fellow CIA pensioners: elegant, posh Brit Helen Mirren, calm elder statesman Morgan Freeman and conspiracy theorist John Malkovich. A lot of playing against type going on then. Brian Cox, as a Cold War uber-Russian (replete with sinister Soviet music when he first appears), rounds out the gang. Bruce's pension secretary, Mary-Louise Parker, is dragged along, as he is worried their cringe-worthily flirtatious phone calls might have put her in danger. Our plucky band then lurches from one set-piece shootout to the next, occasionally pausing to make weak gags.
The movie is based on a comic, which tells you all you need to know about its subtlety, depth and characterization. One has to wonder what made these Hollywood heavyweights sign up for Red. Were they made promises about the scripting and direction that weren't kept? Does director Robert Schwentke have compromising photos of them doing unspeakable things? Whatever it was, sign up they did, and it is their presence that lends the film a veneer of watchability that it doesn't really deserve, elevating it from throw-your-popcorn-at-the-screen bad to sort of entertaining if you've got nothing better to do. Willis is in John McClane mode, giving his iconic character a run out in advance of Die Hard 5 (yes, it's coming), minus the dirty white vest and the sweary catchphrase. Mirren in evening dress behind a machine gun is certainly worth a look. Freeman and Malkovich don't do much that they haven't done in about a dozen previous films (wise counselor and ranting maniac respectively) but it's still good to
see. Ernest Borgnine also pops up in a cameo.
Aside from the stellar cast, there is a kind of brainless panache to much of the action and a few surprise plot twists that shake things up. But this does not excuse the waste of A-list acting ability assembled, nor does it make Red any more than a mid-ranking action flick. And let's face it, the competition – Knight and Day, The Expendables, Salt – is not exactly going to trouble the Oscar committee. 
Debbie Stowe
Directed by: Robert Schwentke
Cast: Bruce Willis, Morgan Freeman, John Malkovich, Helen Mirren
On at:  Cinema City Cotroceni, Cinema City Sun Plaza, Cityplex, Corso, Glendale Studio, Hollywood Multiplex, Movieplex Cinema