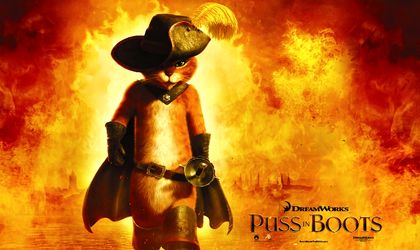 Just in case USD 2.5 billion was not enough, more money is being wrung out of the Shrek franchise with this "spin-off prequel". The film terms franchise, spin-off and prequel tend to evoke despair, and this project, based on a minor character, smacks somewhat of cynicism. Happily, though, the movie will soon have dispelled any doubts and won you over with its exciting 3D sequences and mischievous humor.
At first glance – it's animated and features fairy tale characters – this is a children's film. But there's plenty for adults too and at times the wit strays into risqué territory – there are two genitals gags in the first five minutes. Puss is portrayed as a tomcat, in the figurative sense as well as the literal, which is developed into a running joke. One-liners on hotel breakfasts, catnip, eggs and the nine-lives theory ("that is just a rumor spread by dogs!") are also aimed at a grown-up audience.
Puss is playfully voiced by Antonio Banderas who seems to have a lot of fun with the role. Our feline friend is an outlaw after being wrongly implicated in a crime that was really the work of his former best bud, the egg Humpty Alexander Dumpty. The plot – well, it centers on some magic beans and the Golden Goose, and you don't really need to know any more than that.
Provided that you have once watched a Hollywood cartoon, you will already know that there's a feisty love interest with whom Puss initially doesn't get along, that good characters get happy endings while baddies are punished (moderately of course – it's not Scorsese), that semi-bad characters can be redeemed, that what's important is friendship, loyalty and being the best you can be and true to yourself, and so on.
In short, Puss doesn't have anything new to pull out of his boots. But the conventional story is played out with superb 3D effects – it's a Western and there are some great desert scenes – and a lot of laughs, both from obvious visual gags and wordplay. Full of DreamWorks panache, it's pacey, exuberant, and entertaining almost the entire time – and at a brisk 90 minutes they're not pushing it.
Pour yourself a shot of milk and prepare for feline filmic fun.
Debbie Stowe
Directed by: Chris Miller
Starring: Antonio Banderas, Salma Hayek, Zach Galifianakis
Starring: Cinema City Cotroceni, Cinema City Sun Plaza, Grand Cinema Digiplex Baneasa, Hollywood Multiplex, Movieplex Cinema, Samsung Imax Cotroceni, The Light