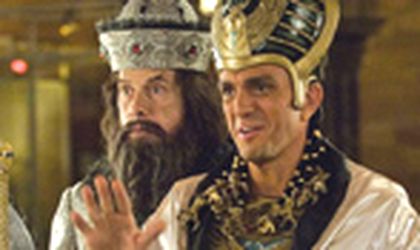 Director: Shawn Levy
Starring: Ben Stiller, Amy Adams, Owen Wilson, Hank Azaria
On at: : Movieplex, Starplex
But don't write it off just yet. Much of what made the first film so agreeable is back. The premise of the exhibits coming to life still has plenty of comic mileage.
Ben Stiller also returns as Larry, the likeable but deadbeat single dad who was reduced to working as a night guard to prove the necessary stability to gain access to his son. He is now the successful head of his own multimillion dollar gadget company, but Stiller excels when playing the amiable loser, and Larry's newfound wealth is not allowed to impinge on the plot apart from in a somewhat corny deus ex machina at the end.
Stiller is again supported by a phalanx of top comedians, including Robin Williams, Owen Wilson, Ricky Gervais, Steve Coogan, Hank Azaria and Christopher Guest, and with a cast of this caliber the movie couldn't be a complete turkey.
The filmmakers have tried to compensate for the absence of surprise by going bigger. This time the action is transferred to the Smithsonian and spread out between a number of its institutes, depriving the sequel of the coherence and sense of place enjoyed by its predecessor, and making it feel rather bitty and episodic.
The Tablet, the magical ancient artefact that brings the exhibits to life, falls into the wrong hands – those of an evil pharaoh (Azaria) who, in the time-honored fashion of screen baddies, wants to use it to take over the world, with help from Al Capone, Ivan the Terrible and Napoleon.
Meanwhile, cost-cutting means the contents of the New York museum are being packed off to storage, and replaced by holograms, to run riot after sunset no more. Despite no longer being in the employ of any museum, Larry is the one man who can stop all of this, along with his semi-platonic sidekick, in the form of an irritating Amelia Earheart (Amy Adams), the aviator. This being a kids' flick, there's not much by way of romance, and the sanitized sexual tension between the pair is resolved rather clumsily at the end. The humor that made the original so engaging is still present, and there are good gags about Darth Vader, the genesis of cell phones and gung-ho American military strategy, among others. A few new characters, including some miniature Einsteins, add to the fun, and Stiller and co are as entertaining as ever. But it lacks the narrative drive and neatness of the first film, and therefore much of its charm.
However, with around $300 million grossed so far, that doesn't seem to have bothered the majority. Rumors of a third instalment are already swirling, and more nocturnal institutional antics look likely.
by Debbie Stowe