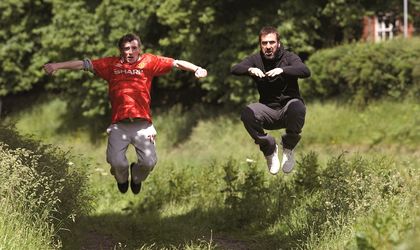 Imagine, if you will, that your life is unremittingly bleak. You live in a dreary town in the north of England, where you work as a postman. You alienated the love of your live decades ago and she won't speak to you. You have ended up living with your two foul-mouthed, work-shy, teenage stepsons who, when not lolling about the house, watching porn on TV and smoking joints, are stashing guns for the local gangster. The only interaction you have with these delinquents is swearing matches and some occasional pushing and shoving. You can't even afford to go and watch your beloved Manchester United anymore. Your best friend is called Meatballs.
This is the situation in which we find our protagonist, Eric (Steve Evets). Eric is a loser. As movie losers go, he is bona fide. He's not one of those Hollywood losers, played by people like Jim Carrey or someone from American Pie, who are young, athletic and actually quite good-looking when they take off their thick-rimmed glasses or get a better haircut. No, Eric is a proper loser, in the British film tradition. (And nobody does losers having it grim like British films. Especially when they're directed by Ken Loach, whose career was built on making relentlessly depressing films about Britain.) Unattractive, badly dressed, no girlfriend, no money, smokes, drinks too much (Eric, not Ken Loach)… You get the picture.
Eric's sole pleasure is recalling the great days when philosophy-spouting French footballer-turned-actor Eric Cantona played for Manchester United. Just as Pauline Collins sat and talked to the wall about her joyless northern England existence so many years ago in Shirley Valentine, so Eric sits and talks to his life-size poster of Eric Cantona, bemoaning his rubbish life.
Then one day, without so much as an ooh la la, who should pop up but Eric Cantona in other Eric's bedroom! A little bit chubbier around the chops, perhaps, but still unmistakably Cantona, with the same irresistible arrogance and still delivering impenetrable aphorisms. Well, Eric Cantona is not having any of other Eric's self-pity wallowing. "Ze noblest revenge is to forgive," he counsels, and, "He who is afraid to throw the dice will never throw a six." All this has quite a profound effect on other Eric, as the advice he's more used to hearing from his social circle includes such searing insights as, "You can change your wife but you can't change your favourite football team." Encouraged by the support of his mysterious new buddy, Eric – with the guts and heart that only a British movie loser has – sets about changing his life for the better. Can he do it, readers?
It may not have escaped the attention of the sharper-eyed among you that our protagonist shares a forename with his Gallic hero. So while he's "looking for Eric", he's also – get it? – "looking for Eric"… I think you grasp the subtle point that the filmmakers were trying to make there.
So. We have a footballer-turned-actor (and thankfully not talentless thug Vinnie Jones) who spontaneously appears in a man's bedroom to do a spot of life-coaching and dancing. We have salt-of-the-earth working class types overcoming adversity armed only with comradeship, beer and pithy banter. (And some baseball bats – but that's later.) We have a half predictable, half preposterous plot. We have scenes that look and sound like a bad made-for-TV movie by one of Britain's foremost directors. It's utterly bizarre. It's naff. It's brilliant.
Debbie Stowe
Director: Ken Loach
Starring: Steve Evets, Eric Cantona
On at: : Cinema City Cotroceni, Hollywood Multiplex, Horia Bernea Studio