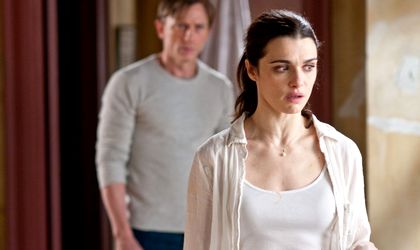 It won't be, of course. A dream house, that is. Just from the title, we know that whatever perfect, all-American couple moves in, with their wholesome kids, affectionate relationship and white teeth, living in said dream house is going to be a nightmare from about ten minutes in until the end of the film.
The latest victims are Will and Libby Atenton (Daniel Craig and Rachel Weisz). You know he's got soul because he's giving up a disgustingly well paid but soulless job in publishing to write a book (after making enough to buy their McMansion in the suburbs of course). She's a perfect stay-at-home mom, effortlessly whipping up nutritious dinners and smiling indulgently while her winsome daughters massacre Fur Elise on the piano. It's a scene of domestic bliss.
Not for long though! The first hint that all is not well comes from the neighbors: Ann (Naomi Watts, whose character has one, default expression: very worried) and her ex-husband Jack (Marton Csokas) whose characterization is done and dusted when he swears at his ex-wife and screeches his tires with his daughter in the car. Scum!
But it gets worse. Will soon discovers that five years ago the family who lived in his house previously were slaughtered (a detail the realtor neglected to include in the property brochure) and that the suspected killer is… yes, you've guessed it – on the loose! Perhaps he was being detained in the same facility from which Halloween film franchise psycho Michael Myers manages to escape every October.
It's difficult to say any more without giving away one of the plot twists that are Dream House's chief thrill. The film builds slowly ("punishingly" slowly in the words of one rather uncharitable reviewer).
Okay, it's not great art. The characters can pretty much be reduced to two-word clichés – worried neighbor, troubled teen, bitter ex, cute kid, slow-witted cop, sassy nurse and so on. Some of the pointers are about as subtle as Daniel Craig dispatching facially deformed mega-villains as 007. And the big reveal at the end hinges on a piece of criminality so inept that it could easily feature in one of those burglars-who-get-their-arms-trapped-in-the-cat-flap TV montages.
It's also undeniable that Dream House lacks originality, with echoes of other, superior films – spoiler alert: skip the rest of the paragraph if you plan to see it. Shutter Island, The Sixth Sense, The Shining and The Others are only the most obvious of the influences, and the movie has a wider derivative feel, fitting the template of all scary films set in fancy suburban houses.
It's not going to trouble the Oscars committee – but so what? Dream House has a good cast, twists and turns and plenty of tension and atmosphere. It will also make you feel a lot better about living in an apartment.
Debbie Stowe
Director: Jim Sheridan
Starring: Daniel Craig, Rachel Weisz, Naomi Watts, Marton Csokas
On: Cinema Union (Sun 20.00, Mon 17.00, Tues 17.00, Wed 14.00; see listings for March screenings)