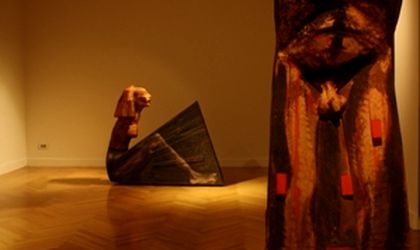 Contemporary art gallery AnnArt hosts an exhibition by sculptor Mircea Roman, whose work has been acclaimed all over the world, from Osaka to London.
The wooden gods of Mircea Roman surround the visitor with their overwhelming presence. The primary energies they exude recall both Ancient Egypt and the medieval wooden churches of Oltenia and Maramures. Time stands still and all that is left to live is a dilated present moment. "The characters brought together in this exhibition have a face," says curator Adrian Guta in the exhibition catalogue. "Social and human categories, attitudes, and not individual entities: he proposes types instead of people, or generic male-female relation." The sculptor's interest in Egypt started as early as high school, and led to an interest in Greek art up to the classical age.
Curator Adrian Guta brought together pieces of different "ages", as he calls them, covering a period from 1996 till 2011. This is probably the most comprehensive exhibition by the 53-year old sculptor in Romania.
Roman is one of the most important figures of contemporary Romanian art. His international career was boosted after he was awarded the Great Prize at the Osaka Sculpture Triennium in 1992. The UK Delfina Studios Scholarship (1993-1994) followed, with exhibitions at Riverside Studios, Meunier Chocolate Factory and ACVA Gallery in London, as well as in museums in Belgium, Italy, Japan and Holland.
Anca Ionita
Until December 3rd, AnnArt Gallery, 1, Mahatma Gandi St, tel: 031 437 95 33, Mo-Fri/ 15:00-20:00, Sat /12:00-20:00