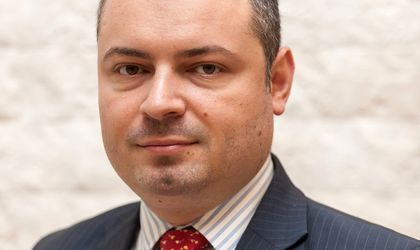 Vlad Doicaru,Vice President of Huawei Romania, will be a speaker at the sixth edition of Business Review's Foreign Investors Summit, taking place on October 29-30 at the Sheraton Hotel in Bucharest.
He will join the panel discussion "Investments in IT, Tech & Telecom" on the first day of the Summit.
"Investing in innovation it is not an option, it is a must. It is not just what forms market leaders, but it is also what triggers the development of society, the new technologies and products and contributing to a positive change in people's lives. Investing in innovation may be considered a key part of our corporate responsibility policy around the world, our commitment to a better future for the next generations," Doicaru told BR.
Since 2019, Vlad Doicaru has been the VP of Huawei Technologies in Romania. Since he joined Huawei in 2004, he has been responsible for Wireless Networks Product Marketing, Sales and Business Development in several main Key Accounts in Romania and the Republic of Moldova (FT Group/Orange, Moldtelecom, RCS&RDS, Romtelecom/Cosmote and Telekom Romania) and for the Enterprise Business Group & Public Affairs in Romania.
Vlad Doicaru was born in 1978 and has 12 years' experience in telecommunications. He holds several qualifications from the IEDC School of Management (Bled, Slovenia) and from Huawei University. He has a Major in Electronics and graduated from the Polytechnic University of Bucharest, Electronics and Telecommunications School in 2002.
---
As of last year, Poland became a full member of the group of the most developed nations in the world, thus creating a path for Romania to join this elite group before long. Recent economic, political and social developments in our country, steady economic growth, a highly regarded Presidency of the Council of the European Union, reinforcement of the state policies through elections, have altogether created an ideal context for a new brighter perspective on the future.
• Is there a real evolution in Romania's development and how we are to benefit from the new global positioning of our country?
• Is a spike in FDI rate to be expected after two years of stagnation?
• Have the local markets reached maturity, especially those with a traditional appeal to foreign investors: energy, IT, real-estate, services, banking and agriculture?
Answers to these important questions and many more will be debated during a comprehensive analysis of the market and of the foreign investors' perception of Romania in the years to come.
Business Review proudly presents the 6th edition of the Foreign Investors Summit, the event that brings together foreign business communities, state authorities and diplomats. Join us, professionals across the main industries, an exceptional line-up of speakers and representatives of major FDIs in our country, for a discussion on leadership and ways to build a brighter and more sustainable future for Romania.