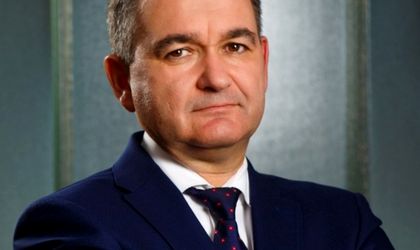 Alexandru-Valeriu Binig – Senior Advisor at Ernst & Young Romania, will be a speaker at the fifth edition of the Foreign Investors Summit, organized by Business Review between October 30 and November 1, at the Sheraton Hotel in Bucharest. 
He will join the panel discussion "Resources and energy – Foreign investment opportunities in Romania" on the second day of the event (October 31) – more details available on the event page.
Valeriu Binig is a Senior Advisor within the Advisory Department in EY Bucharest. He has 32 years of professional experience in the energy sector and he joined EY in 2014, after 6 years as Corporate Finance Director with Deloitte. He graduated the Power Engineering Faculty of Bucharest "Politehnica" University. He also holds a PhD degree in Reliability of Power Systems after two years of Doctoral School at The Compiegne University of Technology.
Previous positions: Deputy General Director for Development, Member of the Board of Administration of RENEL/CONEL (1997 – 2000); Chairman of the Board of Administration for Electrica and Termoelectrica (1998-2000); Former Chairman of the Board of Administration of the Romanian Energy Efficiency Fund (2003 – 2004); (Co)Chairman of the Amcham Energy and Environment Committee (2013-2017) and member of Amcham Romania Board of Directors (2013 – 2014); Chairman of the Energy Task Force of the Coalition for Developing Romania (2015,2017); Member of the Board of Directors of the Romanian Association for Energy Policies (APER); Member of the Advisory Board of the Energy Policy Group; former Engagement Partner for assistance to the Romanian Ministry of Energy in quantitative modelling for the elaboration of the National Energy Strategy (2016)
Binig has held project management positions in strategic projects dedicated to privatization and attraction of investors in the Romanian energy sector (gas distributors/suppliers, energy complexes, nuclear power units, pumped storage hydropower plant, gas transmission operator, power distributors/suppliers,etc).
About the Foreign Investors Summit
With a GDP increase of 7 percent in 2017, Romania is poised to remain among the European Union member states with the highest economic growth rates in 2018 as well. Moreover, after taking over the presidency of the Council of the European Union in the first semester of 2019, Romania will be in a position to make its mark on the global stage. The local economy has remained on the radar of foreign investors resulting in fresh inflows of around EUR 4.5 billion in 2017. This figure is set to remain rather constant this year, according to analysts.
In the Ease of Doing Business report of the World Bank, Romania was ranked 45th out of 190 global economies surveyed, ahead of fellow EU member states such as Italy, Hungary and Bulgaria. Moreover, multinational companies have continued to create jobs and invest in local operations, while also supporting a burgeoning network of smaller firms as suppliers, which, in turn, created business opportunities for local entrepreneurs.
Against this backdrop, Business Review organizes the fifth Foreign Investors' Summit, which will bring together the main foreign business communities for a series of panels, dedicated workshops and keynote speeches in a bid to map Romania's business future. You are invited to join us and discuss the opportunities entailed by Romania's growth with top-level Romanian and foreign, service providers, high-ranking public officials and key decision makers!