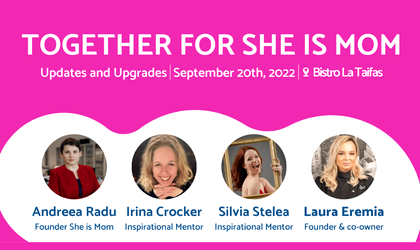 This autumn is about women who know what they want and dare to follow their dreams. She is Mom is the first platform in Romania that is dedicated to mothers (but all women are welcome), helping them grow professionally, whether they need to change their jobs or are in search of mentorship regarding the start of their own business.
The women who become members of the She is Mom Club can find over 100 mentors that activate in various domains and topics from which they can choose to start working on their new path.
The She is Mom platform consists not only of mentoring services but also offers Benefits (discounts for the members for different services) and services for Companies (candidates, training programs for company employees, and resources). If you become a member you can easily navigate through the sections of the platform, choosing what is the best service for you or your company and it also gives you the opportunity to become and join the community of mentors that help other women succeed.
She is Mom will be hosting an event on the 20th of September at Bistro la Taifas that will reveal more about the platform functionalities and its mentor's community. Amongst the speakers, there will be also Andreea Radu, one of the founding members of the platform, and members of the mentor community: Irina Crocker and Silvia Stelea (Founding partners of Eye Light Foundation and successful entrepreneurs in the health and beauty business) and Laura Eremia (entrepreneur and marketing specialist).
This event is part of the How to Web Conference side event. You can register here: https://www.sheismomclub.com/together-for-she-is-mom