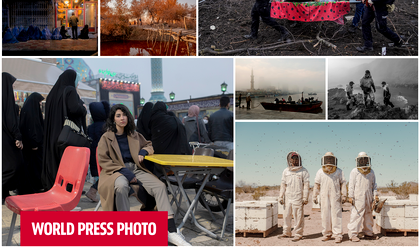 The 66th edition of the annual international exhibition World Press Photo will be able to be visited again this year, at the national level, starting on May 5, 2023.
Brought to Romania for 12 consecutive years by the EIDOS Foundation, the exhibition will be exhibited to the public wide in the centers of nine cities in the country, the itinerary starting with Bucharest, Timisoara, Sibiu, Constanta and Oradea.
Cristian Movilă, the founder of the Eidos Foundation and the representative of World Press Photo in Romania, stated that "we live in an era where fake news is becoming increasingly difficult to isolate, and quality and ethical photojournalism is the way we can get authentic and unaltered information. As a photojournalist I was in the middle of some extremely harsh events, but even if the reality on the ground was too violent, too explicit or simply too difficult to digest, I realized how important it is for us, photojournalists, to render everything as raw as possible, so that we manage to transpose people in that very place and at that moment. Only in this way can we truly act and understand the problems facing this world."
The 120 photographs capture important events around the world: from the war of aggression in Ukraine and its impact on people, to the effects of the climate crisis and civil protests around the world. The photos will be accompanied by a free audio tour, made in partnership with the Smartify application, through which visitors will be able to listen, on their own devices, to the story of each winning photo.
For several months, 24 hours a day, the photos will be exhibited simultaneously from May 5 to May 31 in Bucharest, Timisoara and Sibiu, then from June 3 to July 3 in Constanta and Oradea, and then presented to the public in other important cities in Romania. The entire itinerary and details of each event will be published on the Facebook page of the exhibition – World Press Photo Exhibition Romania.
The World Press Photo competition recognizes quality photojournalism and awards images and stories from around the world. The four global winners were selected from 24 regional winners, chosen from over 60,000 entries:
Photo of the Year: Mariupol Maternity Hospital Airstrike by Evgeniy Maloletka, Ukraine, Associated Press
Story of the Year: The Price of Peace in Afghanistan by Mads Nissen, Denmark, Politiken/Panos Pictures
Long-Term Project Award: Battered Waters by Anush Babajanyan, Armenia, VII Photo/National Geographic Society
Open Format Award: Here, the doors don't know me, project by Mohamed Mahdy, Egypt
The World Press Photo exhibition is brought to Romania by the EIDOS Foundation, organized with the support of the Capital City Hall through Arcub and financed by the Ministry of Culture.
Main partner: Raiffeisen Bank