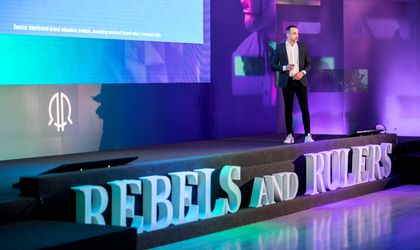 On October 17-18, REBELS AND RULERS, Eastern Europe's most relevant business and branding conference, brought together renowned international and local minds from the likes of Heineken, ING, UiPath, and McCann Worldgroup to discuss the important questions that will ultimately decide whether or not we'll continue moving forward towards a successful community, society, and economy. To help answer these questions, 20 expert practitioners took to the stage to tackle one of the most pressing matters confronting our businesses and nations today: the cultural strength and meaning of our personal, business, non-profit, country, and global brands. 
We've witnessed employees leave companies and citizens leave countries too fast for too long. It is not that they are 100% sure they will be better off somewhere else, but rather that they do not identify at a deeper level with the purpose of their organization – they remain disengaged and indifferent. So, what are top executives, managers, and regional leaders to do? 
Throughout the 2 days of presentations and workshops that they prepared, the 20 marketing, branding, technology, and HR experts that REBELS AND RULERS selected from companies such as Heineken, Philips, and UiPath offered event attendees and their organisations recommendations for generating a positive shift in the right direction. Needless to say, the power and practicality of their insights is being applauded by both the speakers themselves and the 900 marketers, managers, and creatives that joined the conference from across Romania, Bulgaria, Slovakia, Serbia, Czechia, Greece, and more.
The main message written in everyone's notebooks was this: when aligned with a clear and strong purpose, brands can achieve a higher potential and stronger influence than their governments. This can be seen through authentic CSR projects or simply through every customer connection a company establishes. For example, Heineken's former global brand director presented how they aligned with something totally unexpected for an alcohol brand: responsible drinking. Heineken took a stand against inebriation even when it seemed to push completely against their target of selling more beer. Why? Because it was better for the community, better for the brand, and – in the end – better even for business. After all, would a mumbling and stumbling drunken person who cannot hold a conversation, but still offers to buy "the next round", be the brand advocate you'd wish for? 
From other presentations too, it became evident rather quickly that responsibility and genuinely caring for people's well-being must be ingrained in every brand's culture. Meanwhile, the creation of such a culture was identified as being the job of more than an HR or marketing department. Even if these two (along with the top management) set a direction, all of their employees – be they creatives or technologists – must embody it. They should be encouraged to reflect upon it, empower it, and come up with ideas on how to best promote it in every little interaction between them and their consumers. 
Great brand cultures need work; they are living organisms that require tending to, but the results are undeniable. Otherwise, they remain just another plan in a manager's drawer, very quickly leading to dissatisfied employee reactions like that of one of this year's attendees who said, "I feel I need to change my workplace. My employers only talk the talk, but their actions do not represent me nor give me purpose."
Another important finding was that we need diversity to thrive. Get together youngsters eager to share their innovative ideas, creative minds and tech enthusiasts, and let them blend their knowledge and tactics with the more seasoned employees. Bring interdisciplinary knowledge into your strategy sessions if you're looking to create a stronger brand culture. The world's best brands make a competitive advantage out of mixing science, art, design, creativity, heritage, and more.
Also, don't forget the human touch. We strive so much for everything digital, but as Anneke Schogt, CEO of IMA (Influencer Marketing Agency) strongly stated: "People follow people and people don't follow brands." Just look at the top YouTube accounts in this day and age, and you'll see that none of them are brands. So let your brands interact with their customer, create personalization, spark emotion, and breed loyalty.
Companies big and small found the speakers' insights both practical and inspirational, stating:
"Coming from a smaller company, which, so far, hasn't really focused on branding in particular, I feel that I have gained a lot of relevant information that can help me address and develop the topic of branding further, with my employer and colleagues. I really believe that I can use the insights I gained to make a positive change in the culture of my company." – marketing specialist from Romania
"The things I have learned, or rather the thoughts they've stirred in my mind, are very promising and important, but also pretty challenging as I am now realizing that we'd better make some major changes in our business… We have a lot of work ahead of us." – CEO from Czechia
For the next edition in 2020, REBELS AND RULERS will continue its tradition of bringing together some of the most knowledgeable and open experts and attendees from around the world to tackle Eastern Europe's next set of relevant business and branding opportunities. The event will take place on October 22-23 in Bucharest, Romania.
The event was organized with the support of its valuable partners: Julius Meinl, Johnnie Walker, Curtea Veche Publishing, Dagon, Netopia MobilPay, Lexigo along with media partners and friends the likes of: PRO TV, Virgin Radio, Brandingmag, Forbes, IQ Ads, Smark, Backstage Production Group, Moleskine, Business Review, Jurnalul de afaceri, Romania-Insider, IAA, Institutul de Marketing, Marketing Focus, Maastricht School of Management, Start-up.ro, Antreprenor în România, Tarom Insight, Transilvania Business,  Manager.ro, PR Romania, Impact Hub Bucharest, Entrepreneurship Academy, Universitatea Alternativă, Netherlands Romanian Chamber of Commerce, Camera de Comerț și Industrie Bilaterală România-Portugalia, Elite Business Women, Oameni si Companii, România Pozitivă, Comunicatedepresa.ro și BNI.