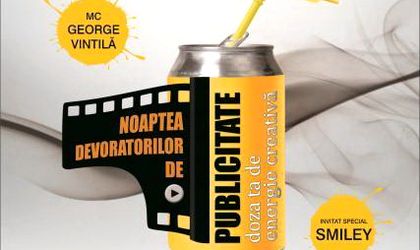 The Night of the Ad Eaters (Noaptea Devoratorilor de Publicitate) show starts June 15 at Sala Palatului and it is dedicated to advertising created in 60 countries, all shown on the big screen in a crazy atmosphere.
Created and produced since 1981 by Jean Marie Boursicot, The Night of the Ad Eaters is a show that now runs in more that 40 countries worldwide. At this Romanian edition, Jean Marie Boursicot will participate at the event sharing with the audience his opinions about the advertising world.
The Night of the Ad Eaters screening show starts at 21.00 and for eight hours it will be the opportunity to get a taste of what Russian, Asian, African, and South American advertisers serve their audiences with 290 commercials.
Every year, all around the world, 300,000 enthusiasts meet-up to celebrate the "Publivore cult", in a friendly, convivial and fun atmosphere, enjoying each and every advert or singing along to the best-known jingles.
Tickets for this event can be purchased online at Ticket Fun or Biletoo.ro, in the Flanco network, Sala Palatului, Unirea Store or Anthony Frost Library.
Oana Vasiliu