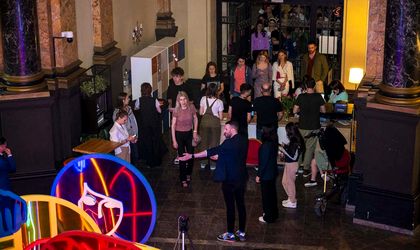 "Victoria and Albert Museum, London, one of the leading art museums in the world, joins Romanian museums as an Art Safari partner and brings to Bucharest the exhibition titled as 'Seeking Truth: The Art of John Constable', curators: Dr. Emily Knight and Katharine Martin, which includes paintings, drawings and watercolours by John Constable, but also works on paper by Albrecht Dürer, Rembrandt van Rijn, Claude Lorrain, J.M.W. Turner, Thomas Gainsborough, Jacob van Ruisdael etc.
The exhibition 'Seeking Truth: The Art of John Constable', consisting of over 80 oil paintings and works on paper, is built around John Constable (1776-1837), one of the greatest landscape painters of all time and his passion for art, considering that John Constable was not only one of the greatest English painters, but also a great collector – he studied and collected the works of the Great Masters for his whole life.
The partnership with the Victoria and Albert Museum, London, honors us and confirms the status achieved over time by Art Safari Bucharest, as the most important manifestation of the Romanian scene in the field of visual arts. If the International Pavilion is dedicated to one of the greatest landscape painters of all time, John Constable, in the Romanian Pavilion we will exhibit one of the main Romanian traveller-painters – Ștefan Popescu. Breathtaking landscapes and a complex edition that must be discovered especially through guided tours or Night Tours, highly appreciated personalized visiting experiences in Art Safari", declares Ioana Ciocan, Art Safari General Manager.
The Victoria and Albert Museum, London (V&A) is one of the most important art and design museum in the world. It hosts a permanent collection of over 2.8 million objects, books and archives that preserve over 5,000 years of creativity. The museum holds some of the most extensive resources for the study of architecture, furniture, fashion, textiles, photography, sculpture, painting, jewellery, glass, Asian art and design, theater and performance.
The authentic beauty of England, captured by the painter John Constable
The exhibition "Seeking Truth: The Art of John Constable" (A V&A Touring Exhibition) presents, for the first time in Romania, the art of John Constable (1776-1837), one of the greatest landscape painters of all time. Born and raised in rural ​​Suffolk, in south-east England, Constable developed a lifelong love of the local countryside, making it the main subject of his art. Even after he moved away from Suffolk and began painting new landscapes, this place remained a rich and enduring source of inspiration for him.
Constable's mission as a painter was to record the truth and beauty of the natural world. He made countless studies of nature to better understand it and paint it more accurately. He combined this close study with a deep interest in the work of past landscape painters. Constable handled paint in a free and highly expressive manner, which provoked criticism from his contemporaries. However, the artist refused to compromise on his own unique and innovative vision and remained experimental until he died in 1837 (it should be noted that a year later, in 1838, the great Romanian landscape painter Nicolae Grigorescu was born who, along with the Barbizon realists, was inspired by Constable's pictorial lessons and incorporated them in his artistic practice). The exhibition curated by Dr. Emily Knight and Katharine Martin analyzes Constable's personal connection with place, his search for inspiration and his innovative techniques.
"We are thrilled to present the V&A's unparalleled collection of work by John Constable. This is the first time an exhibition of Britain's greatest landscape painter has taken place in Romania and we look forward to sharing the breadth of his career. 'Seeking Truth: The Art of John Constable' takes visitors on a journey through Constable's life and explores his artistic vision, sources of inspiration and fascinating working practice", said Katharine Martin and Emily Knight, Curators of the exhibition.
The International Pavilion will also host a fresh contemporary exhibition, developed in partnership with the Embassy of the Republic of Korea in Romania, Korean Beauty. Poster Art, a poster exhibition signed by Byoungil Sun, which will definitely engage Art Safari's young, growing audience.
The Romanian Pavilion will include 3 art exhibitions.
"Stefan Popescu. Travel story" (curator: Dr. Elena Olariu), developed in partnership with the Bucharest City Museum. Ștefan Popescu is one of the most appreciated Romanian traveller-painters, who also stood out by representing Romania in no less than three editions of the Venice Biennale. During his stay in Paris, after 1900, he established strong connections with the Romanian artists and people of culture who lived in France, becoming friend of Constantin Brâncuși in Paris.
He begins to paint seascapes in France, but also the sunny or cloudy landscapes of the Breton coasts. For his attachment to French culture, Ștefan Popescu received, in 1925, the Legion of Honor, in the rank of Knight, awarded by the French State. The artist alternated his trips to France with those through Turkey, Morocco, Tunisia, Algeria, but also with trips through Switzerland, Italy, Greece, Yugoslavia or Germany. Ștefan Popescu was also one of Queen Maria's favorite painters, who purchased some of his most important works for her private collection.
"Lillian Theil. An old woman who smiles" (curator: Raluca Ilaria Demetrescu) exhibits an artist outside the norms, aged 90, who lives and works in Sighisoara. Born in Brașov, in 1932, expelled after the first year of studies at the Institute "Nicolae Grigorescu" National Art Center from Bucharest, on the grounds of "unhealthy origin", (re)takes up art in a liberating exercise, after the Revolution of 1989. From that moment, Lilian Theil will initiate an extremely personal creative path, revelatory – the artist will think, philosophize and… sew an impressive number of works on textile support with a strong charge of catharsis.
"Mihai Muresan. Little things" (curator: University Professor Dr. Ioan Sbârciu). An artist with a fascination for the exterior and interior landscape, Mihai Mureșan is part of the new generation of neo-realist painters trained at the Cluj Painting School. His canvases build universes in which not only fragments of the artist's own reality are revealed to the viewer, but atmospheres full of sensitivity. Landscapes and urban fragments, influenced by his mood, exercises to clarify the surrounding world, but also interiors.
Program for visiting the exhibitions:
Art Safari: Thursday-Sunday (12:00-21:00), September 23-December 11, 2022, Dacia-Romania Palace (The Museum of Bucharest), Lipscani street no. 18-20, Bucharest
Tickets with a 20% discount can be purchased on www.artsafari.ro until August 26, 2022.