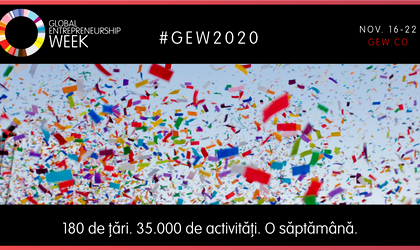 Organizations involved in shaping entrepreneurship, companies and partners, authorities in education, work, representatives of the business environment and media are invited to join with this occasion GEN, the platform that puts at the disposal informational resources, practical tools and experience exchange needed to optimize the interventions in the field.
By Romanita Oprea
This year, the Global Entrepreneurship Week marks four distinct themes: education, eco-systems, inclusion and politics. By taking part at this global event the organizations have the opportunity to present their programs in order to identify new potential collaborations and partnerships. The panned activities will bring foreground powerful voices, ambassadors and partner organizations, part of GEN, that promote, encourage and support the developing of the entrepreneurs in each of the four fields considered to be a priority this year.
As a local host for the Global Entrepreneurship Week, Junior Achievement Romania tolls in the week November 16-22, projects and webinars dedicated to the initiative, offers information about Global Entrepreneurship Network's projects and promotes this collaboration platform that offers all the people involved the possibility to connect, collaborate and benefit of documentation and developing resources offered by the participant countries.
Global Entrepreneurship Network is a projects and programs' platform that targets the facilitation of a business launch and growth. GEN helps people 170 countries to express their ideas and to transform them in promising projects, stimulates the creating of new work places, the innovation acceleration and the consolidation of the economic stability in the whole world.
Junior Achievement Romania, non-profit organization, was launched in 1993 and is part of the JA Worldwide® USA and JA Europe. Junior Achievement represents the biggest international entrepreneurial, economic, financial and STEM organization. Its programs are followed in 40 European countries and in over 100 in the world. In Romania, JA's "learning by doing" and "project based" type of programs, adapted to the hybrid learning, are followed each year by over 230.000 pupils and students, in over 1.670 learning institutions and develops locally in partnership with the National Education Ministry, the learning institutions and the business community.