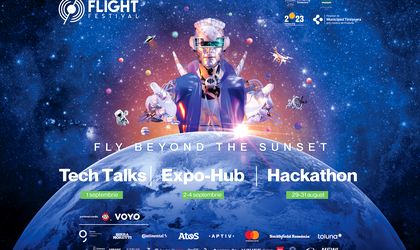 MullenLowe Romania signs the concept of the 2022 edition of Flight Festival, the only edutainment festival in Romania, which combines music, art and technology, during 17 days of exploration, discoveries and fun. FLY BEYOND THE SUNSET is the challenge for people to venture beyond the everyday horizon line, where they will enjoy a multiverse full of surprising, dynamic and exciting experiences.
Flight Festival will take place between August 26 – September 11 and will include a mix of concerts, conferences and demos of technology, theater performances and workshops, film screenings and new media art installations, held on the Cioaca Aerodrome, on the banks of the Bega River, at Iulius Garden but also in other locations in Timișoara, a city that will be the European Capital of Culture in 2023.
The concept and campaign dedicated to this year's edition follows the trajectory of the festival's 3 pillars, outlining a multidisciplinary journey for the participants. Thus, the Flight Festival lineup will bring on stage the best artists in Romania, as well as international artists who no longer need presentation, while for enthusiasts and technology experts, the prepared events and activations will live up to regional standards. At the same time, Flight Festival will offer to the cinephiles a program exclusively based on films awarded at the major international film festivals and will be, at the same time, a festival of theater schools and universities, animated by renowned actors (even) beyond the borders of the country, which will provide both performances and workshops for students.
"In 2022, Flight Festival will fly at the highest altitude so far. We set out to offer people a unique space where their diverse interests and passions meet with unique experiences. And we are glad that we are making this journey with MullenLowe Romania, an excellent co-pilot, and the other teams involved, who perfectly complement our crew. Together, we put the festival on the desired route and trajectory and promise the participants and partners a journey to remember. And, looking over the horizon, we are glad that Flight Festival is preparing to be part of the activities associated with Timișoara's status of European Capital of Culture, in 2023″, said Ovidiu Megan, co-founder of Flight Festival.
—
"For us, it's a holiday when we have the opportunity to work with and on a unique product. And Flight Festival is one of a kind. So we started from understanding very well the vision and the needs of the team so that, following this track, we develop the concept that perfectly expresses the mission and spirit of the festival, along with a dedicated campaign to ensure a successful take-off. We started from the entertainment plus education combo, with a multidisciplinary character and we mixed the pillars in a personalized itinerary and umbrella to the taste of the millennial audience", added Florian Langa, Senior Copywriter, MullenLowe Romania.
—
"For the visual identity, we imagined the archetype of the man from the multiverse, which is defined by the opening to a variety of cultural, sensory and educational experiences and is always avid to discover and reinvent himself", added Dan Drăgan, Senior Art Director, MullenLowe Romania.
The promotion campaign is carried out both online and offline, with a communication mix completed by Initiative and Golin Romania. Thus, the experiences of Flight Festival are promoted in Social Media, on the main platforms (Facebook, Instagram, TikTok and YouTube), as well as through online PR activities, Pay Per Click campaigns and influencer campaigns. In offline, the promotion is ensured both through conventional outdoor ATL (banners, meshes, posters, trams and buses branding) and through unconventional supports and executions.
The concept of a multidisciplinary festival, built on the special blend of education, culture and entertainment, is easily differentiated from other festivals in Romania, which offer participants only one type of experience. Full information about Flight Festival 2022 can be found on flight-festival.com and on the event Facebook page.
The teams involved in the campaign:
Flight Festival: Ovidiu Megan (Co-FOUNDER Flight Festival), Cezar Stoienescu (Co-FOUNDER Flight Festival), Vlad Garboni (Co-FOUNDER Flight Festival), Daniel Lupu (Marketing & PR Flight Festival).
MullenLowe Romania: Silviu Antohe (Executive Creative Director), Florian Langa (Senior Copywriter), Dan Dragan (Senior Art Director), Alex Ranete (Graphic Designer), Andra Panaitescu (Client Service Director), Maria Barbu (Senior Account Executive), Mara Grigorescu (Account Director), Adrian Radu (AV Director).
Golin Romania: Larisa Hladiuc (Senior Media Associate), Adriana Georgescu (Digital Strategist).
Initiative Romania: Andreea Dinescu (Deputy Managing Director), Cristian Lincu (Account Manager), Miu Alexandru (Senior OOH Manager), Andreea Varlan (OOH Media Buyer), Cosmin Oțel (Digital Strategy Director), Răzvan Mihai (Digital Account Executive), Cătălina Ghita (Radio Media Buyer).