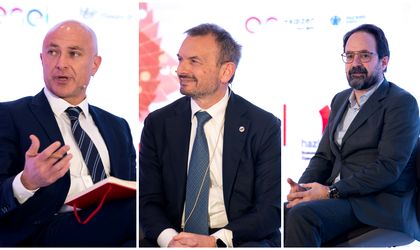 The Economist Romania Business & Investment Roundtable delivered fresh, robust and action-oriented insights through an in-depth conversation with key international policymakers. As a special speaker, the Romanian Prime Minister, Nicolae Ciucă, assured foreign and domestic investors that Romania has a safe, strong and open economy and mentioned that the Government would support any initiative to relocate in Romania businesses from the countries affected by the war in Ukraine.
European Commissioner for Economic Affairs Paolo Gentiloni, also present in Bucharest for The Economist Romania Business & Investment Roundtable, said that the payment of Russian gas in rubles means a breach of existing contracts and that the European Union is ready to deal with the decision.
The speakers and officials have also discussed the latest technology trends and their business impact.  
Achilleas Kanaris, CEO Vodafone România:
"The pandemic has put constant pressure on telecom companies over the past two years. We believe that we have managed to offer our customers the support they need to do their business. But the sector's competitiveness has lagged behind. The main promise of 5G technology, which derives from its amazing speed and low latency, has not yet become reality.
The future is far from clear and the industry will need to make significant investments to ensure good 5G coverage. Of course, we have to decide together what kind of industry we want to have. For a competitive industry, the dialogue with the authorities regarding the future of digital Romania is crucial."
Carlo Pignoloni, CEO Enel România:
"The energy transition requires a profound change in the economy, which means that we must focus our efforts to achieve it. So far, we have not seen any measures to take us in this direction.
There have been some doubts about investing in renewables, but this is the energy source of the future. Given the market, Romania can provide this type of energy, but for that, we need a lot of focus and efficiency.
Electrification is one of our mantras and the only way we can stop climate change. We need more electric vehicles and dedicated infrastructure for them. The European funds will be well spent if they are directed to energy efficiency programs through which people turn their regular homes into smart ones and buy electric cars. That means transformation and decisions made for beneficiaries and consumers."
Julio Iglesias, CCO Kaizen Gaming:
"Our company has experienced significant growth during the pandemic and we need to make sure that we maintain this rapid pace of development in the future. Our customers are already living in the future. They have expectations and hopes about the online experience that goes beyond the infrastructure we have now. So, there is a strong demand for online services and applications, there is no doubt about it. But who will make applications profitable? I think this is the key to developing the whole market.
As an active company in the game tech sector, we are looking for talents that will allow us to grow rapidly in an increasingly competitive market, but these talents cannot be found everywhere. Consumer needs are rapidly changing, and without tech talent, we cannot move forward."