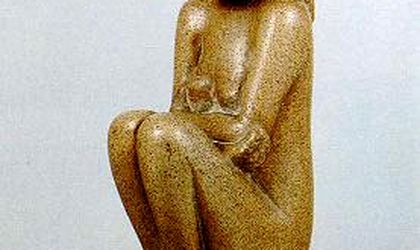 Members of the committee of one of the most famous art museums in the world, TATE Modern museum from the UK, together with major international art collectors attracted by the potential of Romanian art, are arriving in Romania on Monday, September 8.  At the request of the Tate Modern museum, the most-visited modern art museum in the world in 2013, a major private exhibition dedicated to the Romanian avant-garde artists from beginning of the century will be opened at Artmark.
One of the stars of this exhibition will be The Wisdom of the Earth by Constantin Brancusi, probably the most important sculpture of Brancusi who is still on the Romanian territory, which is now in a private collection. The sculpture represents the philosophy of Brancusi who was his roots in wisdom prior to Christianity.
Romanian artists such as Victor Brauner, Marcel Iancu, Arthur Segal, Hermann Maxy, Cornelius Michailescu, Gerasimos Luke, Jules Perahim George Mişoznic, Jacques Herold, Paul Peacock, Brassai, Hans Mattis Teutsch were on the front lines of the regional avant-garde. They will also be presented in the private exhibition "Showcasing Romanian Avant-garde Art from private collections, TATE viewing".
Among the most valuable works are Chimera Earth by Dimitrie, Mediterranean Port by Marcel Iancu, The Pigeon by Hermann Maxy, Recurrence hyper genesis by Victor Brauner, Nude by Hans Mattis-Teutsch and Portrait of Geo Bogza by Jules Perahim.
Oana Vasiliu