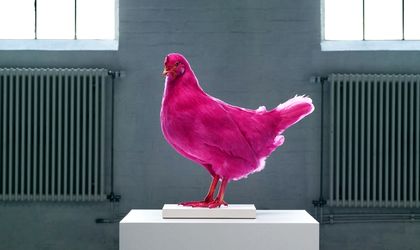 Sweden will be present this year with the exhibition Sustain Able Voices – Young Swedish Design at Romanian Design Week, the most important multidisciplinary festival in Romania that supports the development of design and creative industries.
The exhibition Sustain Able Voices consists of selected works from the Young Swedish Design award (Ung Svensk Form) nominated between 2004 -2020 that show the power of design and its ability to change.
Many of the works in the exhibition solve practical challenges in the everyday, while others lean towards art and fashion. In recent years, however, the environment and climate has come more and more into focus.
What they all have in common is courage, openness, and a desire to experiment. Not all challenges can be solved by design, but young designers play a key part in the quest for more sustainable solutions, both environmental and social.
The exhibition includes posters with all the works and some of the objects, such as the Pink Chicken project (image), within which the design duo Nonhuman Nonsense suggest that gene modification (gene drives) should now be used to turn all chickens pink. This way, over time the birds' remains would create a pink geological layer, or stratum, as an indelible reminder of eating habits in the current age. This is a speculative project which thought-provokingly discusses power structures and the global, industrial production of food.
Romanian Design Week will take place between June 5-13, and the Sustain Able Voices exhibition will be open to the general public and can be viewed free of charge alongside international design exhibitions at the Qreator space on 8A Aviatorilor Boulevard, daily, between 10:00 and 20 : 00.
Her Excellency, the Ambassador of Sweden in Bucharest, Mrs. Therese Hyden will be present at the opening of the exhibition on June 5 at 15:00.
The event will be organized respecting the social distance and all the rules and recommendations valid at that time. The access for minors is not allowed.
The exhibition Sustain Able Voices is a co-production by Svensk Form and IKEA Museum and is shown internationally in collaboration with the Swedish Institute.