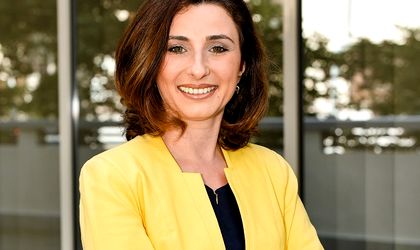 Sinziana Pardhan, Managing Director at P3 Logistic Parks, will join Business Review's re:Focus on Logistics & eCommerce event on October 2, at the Sheraton Hotel in Bucharest.
Sinziana has extensive experience in investments, acquisitions and disposals, and before joining P3 she had previously spent nine years working at real estate consultancy Colliers. Prior to that, she collaborated with SOPOLEC and the Romanian Green Building Council, and also had consultancy assignments with the US Department of Commerce, the Dominican Republic's Competitive Council and The Global Knowledge Partnership (Kuala Lumpur, Malaysia). Pardhan has a Bachelor's degree in Finance and Banking from the Bucharest University of Economic Studies and a Master's degree in International Business from The Fletcher School of Law & Diplomacy at Tufts University. She also took classes at Harvard Business School and Harvard Kennedy School and was co-founder and co-leader of the Euro-Atlantic Club.
She will take part in the panel titled "Demand for warehouse space among retail chains and logistic operators".
re:FOCUS ON LOGISTICS & eCOMMERCE is a one-day event organized by Business Review, with an audience of about 100 industry experts and entrepreneurs along the entire retail sector and its supply chain. The conference reveals the latest trends and predicts the future ones, while offering solutions to nowadays challenges of logistics & eCommerce. Our guest speakers will share valuable insights on how to adjust your business in terms of delivery times, small delivery sizes and large production ranges, return systems and instant product availability. Everybody shops, the difference is where & how. As the market continues its permanent growth, logistics and ecommerce sectors must evolve at the same pace and embrace new trends in AI and automation.