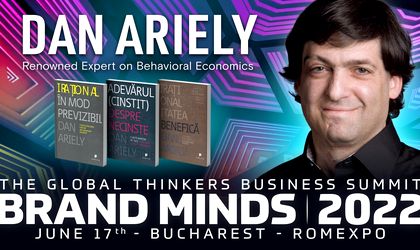 Selected in Top 50 Most Influential Global Thinkers, impacting millions on a global scale and 3 x New York Times bestselling author, Dan Ariely is coming to Romania to attend BRAND MINDS 2022 edition as a speaker. On June 17th, Dan Ariely will share his top insights on the subject "How to change behaviour". Participants will learn:
Why knowledge is not a great way to change behavior;
Why intuition is often misleading;
The many different components of motivation;
How cognitive science can impact business development;
How to upgrade marketing strategy by leveraging consumer trends;
What drives consumers to make decisions;
How to better deliver value to clients by leveraging human behaviour trends.
Listed in Bloomberg's Top 50 Most Influential Thinkers, an elite international ranking featuring individuals with "the ability to move markets or shape ideas and policies", Dan Ariely is one of the most influential authorities in behavioural economics in the world. With 2 PhDs in Cognitive Psychology and Business Administration, Dan Ariely is also the "James B. Duke" Professor of Psychology and Behavioral Economics at Duke University and has over 20 years of academic research experience. Following his mission to help people understand decision-making processes and human behaviour, Dan Ariely has developed multiple global projects impacting millions of people worldwide:
He has co-created (Dis)Honesty – The Truth About Lies, a documentary film;
His public speeches have impacted over 27 million people worldwide;
He is the founding member of Simpli, a powerful internet tool that Google is using for its search and advertising platform;
He co-founded the Center for Advanced Hindsight, an organization helping people become happier, healthier, and wealthier with behavioural science;
One famous consumer behaviour pattern that he identified is the IKEA effect which causes people to value things more highly if they made them themselves.
He is the author of 3 x New York Times bestsellers that have impacted the lives of millions of readers worldwide: Predictably Irrational, The (Honest) Truth About Dishonesty and The Upside of Irrationality. The NBC network has recently announced that it would adapt Dan Ariely's bestseller Predictably Irrational into a TV show.
In addition to Dan Ariely's participation to the event, BRAND MINDS 2022 brings 7 more experts on the stage, on 17th and 18th of June:
GARY VAYNERCHUK – CEO VaynerMedia – Investor & Entrepreneur\
JORDAN B. PETERSON – World Famous Psychologist & Bestselling Author
DANIEL PINK – #1NY Times Bestselling Author & Sales Expert
JONAH BERGER – Consumer Behavior Expert
WHITNEY JOHNSON – Team Performance Expert
ANGELA OGUNTALA – Futurist & Innovation Expert
GABOR MATÉ – Respected Physician, Speaker & Bestselling Author
The line-up of outstanding speakers will deliver world-class business education speeches with top insights and strategies on:
BUSINESS SCALE-UP
TOP TEAM PERFORMANCE & LEADERSHIP
THE NEW RULES OF SALES & INFLUENCE
WORK-RELATED STRESS MANAGEMENT TECHNIQUES
BUSINESS INNOVATION FRAMEWORKS
VIRAL MARKETING
BRAND MINDS, one of the top 5 largest business conferences in Europe, provides attendees with a 2-day business edutainment experience, in Bucharest, at Romexpo, on June 17th and 18th, 2022. Over 6000 professionals from over 50 countries are expected to attend this year's edition with the organizer offering translation into Romanian, Hungarian, Bulgarian and Turkish.