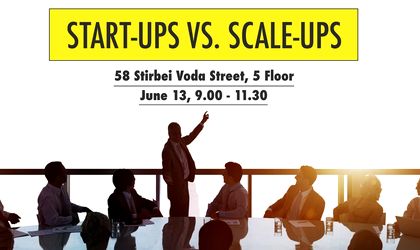 BR's Start-ups vs. Scale-ups 2019 will bring international know-how and good practices to Romanian start-ups and scale-ups, from legal experts, investment funds and successful start-uppers and scale-uppers.
Business Review has teamed up with Schoenherr to offer start-up and scale-up communities legal and funding advice, as well as success stories from local entrepreneurs, so that they can reach their business goals.
Don't miss your chance to attend the roundtable and find out what makes start-ups and scale-ups succeed! Send us an e-mail at events@business-review.eu to secure your place by end of day June 12. Entry is free, but there are limited seats! Get all the information you need on the event page.
Our speakers will help you understand the most important aspects to take into account when you're looking to grow your start-up, raise funds, make a successful exit or scale your company on new markets. They are:
Madalina Neagu – Partner @ Schoenherr Romania
Thomas Kulnigg – Partner and Head of Technology & Digitalisation @ Schoenherr Attorneys
Ciprian Nicolae – Principal Responsible for CEE Investments @ Credit Value Investments
Cosmin Mihai Marinescu – Managing Partner & Business Strategy & Development @ Lummetry.AI
Cristian Logofatu – Co-Founder and CEO of Bittnet Group
Laurentiu Ciocirlan – Managing Partner @ Equiliant Capital
The roundtable will be hosted by Alex Glod, who is a senior trainer, online instructor and TEDx speaker.
We will be discussing things like:
What to consider when you're looking to raise funds
Tips and tricks for startups & scale-ups in protecting copyrights, patents, and trademarks
Be ready for an exit
Employee incentive programs
(legal) Pitfalls for start-ups & scale-ups
Venture capital transactions
Corporate venture capital
Shareholding schemes