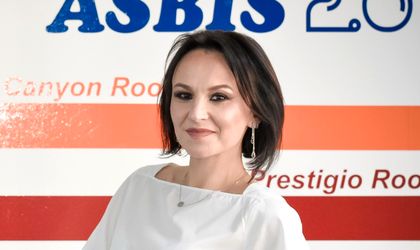 Oana Barbu – General Manager at ASBIS Romania, will be a speaker at the fifth edition of the Foreign Investors Summit, organized by Business Review between October 30 and November 1, at the Sheraton Hotel in Bucharest. 
She will moderate the panel discussion "Investing in tomorrows' workforce. Companies' involvement in education and training programs" on the first day of the event (October 30) – more details available on the event page.
Oana Barbu believes in technology's power to save the world. She is one of the few women with a long-term management experience on the local IT market.
She built her career in the IT distribution sector in 2000 (Marketing Manager Flamingo International – 2000-2003), followed by BE PROFFICE/RTC HOLDING (IT Purchase & Marketing Manager  – 2003-2005 and Marketing Manager – 2005-2007), then spent 10 years in the market leader company Network One Distribution, as Purchase Manager and Chief Commercial Officer.
Today, Oana is the General Manager of ASBIS, the IT distribution company representing ASBIS Enterprise's Romania operations for over 20 years. Locally, the company had a turnover of over RON 200 million and is a trusted partner to over 1,500 companies in three large business segments: online retail, traditional resellers and B2B solutions integration companies.
About the Foreign Investors Summit
With a GDP increase of 7 percent in 2017, Romania is poised to remain among the European Union member states with the highest economic growth rates in 2018 as well. Moreover, after taking over the presidency of the Council of the European Union in the first semester of 2019, Romania will be in a position to make its mark on the global stage. The local economy has remained on the radar of foreign investors resulting in fresh inflows of around EUR 4.5 billion in 2017. This figure is set to remain rather constant this year, according to analysts.
In the Ease of Doing Business report of the World Bank, Romania was ranked 45th out of 190 global economies surveyed, ahead of fellow EU member states such as Italy, Hungary and Bulgaria. Moreover, multinational companies have continued to create jobs and invest in local operations, while also supporting a burgeoning network of smaller firms as suppliers, which, in turn, created business opportunities for local entrepreneurs.
Against this backdrop, Business Review organizes the fifth Foreign Investors' Summit, which will bring together the main foreign business communities for a series of panels, dedicated workshops and keynote speeches in a bid to map Romania's business future. You are invited to join us and discuss the opportunities entailed by Romania's growth with top-level Romanian and foreign, service providers, high-ranking public officials and key decision makers!