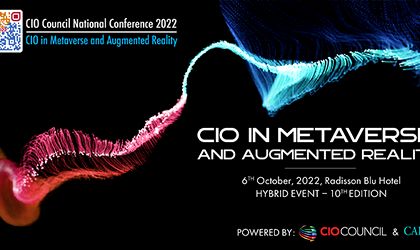 The 10th edition of the National Conference of Romanian CIOs, organized by the CIO Council Romania and CARIERE magazine, shall take place on October 6, 2022, from 8:45 to 17:00, at the Radisson Blu Hotel in Bucharest, Atlas room.
The event will gather over 250 IT practitioners and managers, CIOs and COOs, thus providing them with an excellent opportunity to discuss the current challenges of CIOs and of IT departments in the context of global changes of the macroeconomic climate, of the galloping inflation, of the crisis of energy prices and the strong geopolitical tensions.
On a yearly basis, starting 2013, the CIO Council Romania Association has been organizing the most representative event to the IT Directors' community, by raising the most important issues on the CIOs' agenda, the issues pertaining to the Romanian business community, the new technology trends and their application in business, and cybersecurity issues.
The central theme of this year's conference is comprised of the new technology trends of Metaverse and Augmented Reality, Artificial Intelligence and Machine Learning, and it will be focused on actual case studies and white papers of various companies to improve business operational processes and financial KPIs. Topics such as cybersecurity in the context of war in Ukraine and the issues of public [administration] digitalization shall be debated.
The conference audience shall consist of CIO Council Romania members, members of Romanian and international companies, IT business leaders, representatives of the public and governmental environment.
A more extended participation shall be ensured online, as part of the community comprised of more than 2,000 IT professionals, formed during the 10 years since the event has been launched.
As part of this year's edition, the main debate topics are as follows:
Top digital trends in 2023. What will the future look like?
Everything moves to the Cloud. Which systems will remain on premise?
Edge Computing. How to build a Cloud and multi-cloud strategy.
Transforming business models through Artificial Intelligence, Machine learning and Robotics
Digital Business Transformation and the new type of business
What is Metaverse?
Ransomware and the latest cyber protection. Zero trust architecture.
Cybersecurity challenges to the digital world. How has the war in Ukraine impacted businesses?
Security by design. Industrial Control Systems vulnerabilities.
Disaster Recovery and Business Continuity.
Business Intelligence and Advanced Analytics
Data Governance. Data Protection. Security, Risk and Compliance
The European Digital Agenda. GAIA-X, Digital Markets Act.
Where to apply the blockchain technology in business?
What is the role of CIOs in the VUCA New world order?
The following speakers will join:
SEBASTIAN I. BURDUJA, Romanian Minister of Research, Innovation and Digitalisation, and Member of the Romanian Parliament
ANTON ROG, Head of the National Cyberint Center, SRI (Romanian Intelligence Service)
PASCAL STEICHEN, Chairman of the European Cybersecurity Competence Centre
GABRIELA STĂNICĂ, Chief Information, Data Officer and e-commerce Director, Carrefour Romania, CIO Council Member
CĂTĂLINA DODU, Country Manager, Atos IT Solutions and Services Romania
ROXANA IONESCU, Partner and Co-head of NNDKP's Data Protection Practice
VALENTIN STĂNESCU, Country Manager, Dell Technologies
CRISTIAN TURCIN, Cloud & Professional Services Product Manager, Orange Business Services
MIHAI OLTEANU, Cyber Security Defence and Alliances Director within the Risk Advisory Department of Deloitte Romania
SORIN GĂVĂNESCU, Managing Partner Software Engineering, Softelligence
VÁCLAV ŠPÁŇA, Executive Partner, Gartner
IOAN CONSTANTIN, Cyber Security Expert @Orange Romania
CARMEN ADAMESCU, Partner, Technology Leader, EY Romania & Moldova
ANDREEA IONIȚĂ CIREBEA, Chief Digital Technology Officer, ON România, CIO Council member
MURAT KAYMAZ, Managing Director of Cybersecurity, Soitron Group
AURELIAN ENACHE, Enterprise Account Executive, Google Cloud
CĂLIN RANGU, Dean of the Economics and Business Administration Faculty, Danubius University Vice President CIO Council Romania
ION IONUȚ GEORGIAN, Head of OMV Petrom Global Solutions IT
IULIA MALIOUKIS, Principal Digital Transformation Horváth Romania
CLAUDIU HOBJILA, Customer Engineer – Infrastructure Modernisation, Google Cloud
LAURENȚIU MANDU, Board Member, CIO Council Romania
VLADIMIR ESTER, CTO, Cluster Power
CRISTIAN CUCU, CIO Council Member
ALEXANDRU RUSANDU, Global Cybersecurity Services Head of Portfolio and Service Engineering, Atos IT Solutions and Services
HORAȚIU NISTOR, Senior Manager in the IT Audit & Advisory Department, Mazars Romania
BOGDAN TUDOR, Board Member, CIO Council Romania
The facilitator of the event will be YUGO NEUMORNI, Președinte CIO Council.
In addition to international speakers, the guest list also includes members of the CIO Council, CIOs of top companies in Romania and many other professionals in the IT industry.
Supporting Partners: DELL Technologies, Intel, Google Cloud, Orange Business Services, Atos IT Solutions and Services Romania,
Partners: Softelligence, Cluster Power, Deloitte, Datanet Systems, Gartner, N.N.D.K.P, Mazars, EY Romania, Horvath, OMV Petrom;
Networking Partners: Global Data Security;
Organising Partners: Coffee Partner – Nespresso; Translation Partner – Traduce.re; Wine Partner – Basilescu
Community Partners: ISACA Romania Chapter, Asociatia Patronala a Industriei de Software si Servicii (ANIS) [Employers' Assoiation of the Software Industry and Services], PWN Romania, Cluj IT;
Media partners: HR Manager Magazine, Jurnalul de Afaceri / BusinessJournal, Biz, Doingbusiness.ro, Portal HR, HR Club,
Softlead, Market Watch, Financial Intelligence, Learning Network, Spot, Hipo, CONAF, Geeki, TechCafe, Wall-Street, Business Review