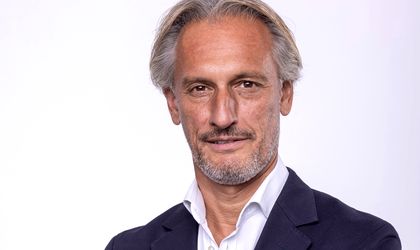 Most people don't know or understand the work of an investor, much of this job represents building relationships with people. Many people think that the work of investors is based only on numbers, but the numbers and the Excel part mean only 25% of what an investment expert does, says Matei Păun, founding partner of the Black Sea Fund and a specialist with over 20 years of investment experience.
Matei Păun will talk about what it means to work as an investor, but also about what failure means on Thursday, 24 November, at 19.00, during the 15th edition of Fuckup Nights Bucharest, an event that changes the perspective on professional failures and mistakes.
The event will occur at Refugiu Urban – Palatul Universul. Tickets to the event are available on Eventbook and Iabilet network. The event will be held in a hybrid format.
Matei Păun's opinion on what means to be an investor, how to choose investments, but also on failure
"People need to learn and understand what an investor does. A lot of an investor's job is to build relationships with people. And that chemistry, that magic, is not in Excel. Too many people think of the work of an investor as mostly Excel and formula-based work. In reality, the latter is no more than 25%. Emotional intelligence is far more important to the success of an investor's work. Excel's are not hard to make, anyone can make a spreadsheet with figures and calculations.
So, as an investor, you need to know how to motivate people to take on certain numbers, targets or challenges. You also need to know how to support them, to take on the role of a coach, to listen to them, to understand what you are being told and what you are not being told and to have the most honest, fruitful and useful communication possible, to understand where the entrepreneur needs support. There is no point in having a good Excel if you don't have the ability to motivate people to implement it, to understand when deviations occur, to support them. When things don't go well, it's important not to get upset, but to come up with empathy, which helps you understand better and come up with applied solutions. This builds trust, which leads to honest, sincere communication.
A good investor combines rational thinking with emotional, softer thinking. And few do this, most investors are usually more anchored on the quantitative side – which has an important role, of course, but that role is much more limited. I would say it's important for the investors to have a good grasp of both areas and to be able to position themselves as honestly and objectively as possible to the projects, partnerships and relationships they have, to come up with ideas, feedback and useful solutions that can lead to action. And that requires a lot of authenticity and independence – you must be able to detach and look at yourself from the outside. Essentially, we're talking about the human side of things, which cannot be missing from an investor's work.
We also look at these two aspects when we make an investment: the quantitative side is a theoretical analysis of the situation, and the emotional side is about the entrepreneurial team. We look for the team to be made up of balanced people.
In this job, what is beautiful is working with people. I love working with entrepreneurs and my joy is being able to give them hope – to give "wings" to people, to create projects and develop initiatives. The main problem of the Romanian people is fear, which we must learn to overcome. And to do this, we must learn to accept risks. Any success is built on the acceptance that you take risks and that it might work out, that it might not work out the way you want, or that it might not work out at all. People generally have a problem with failure and the idea of not succeeding or being pointed at.
 In Romania, this stigma is even greater than elsewhere. Therefore, it is essential to relate to failure correctly, because if we relate to failure correctly, we can accept it and overcome it. Implicitly, this will make it easier for us to take risks.
Failure has taught me that it is part of life, that without failure, there would be no success, and that failure is the best lesson. The failures I have experienced have had a constructive impact on my philosophy of life. Failures have played an important role in revealing my humility and limitations, which every human has, as well as my resilience, my convictions. For example, resilience is about perspective, about how you relate to things. It's essential to relate correctly to what happens to you. We lose resilience when we lose context. And then we don't relate correctly to a problem and we get carried away, we don't feel in control of what's going on. If we were to think of an analogy with the sea, to navigate you have to be aware of where you are in space and you have not to fool yourself, because fooling yourself leads to death. You can only relate to a storm correctly. And for all this, you need humility.
In general, my approach to failure is positive; it awakens my empathy and incites my curiosity. I'm always looking to see what we can learn from what has happened. Someone else's experience can be as learning as your own."
Matei Păun is a specialist with over 20 years of experience in investment, having been involved in dozens of transactions so far. Since 2018 he is co-founder of Black Sea Fund, an investment fund focused on SME transactions in Romania. In 2005 he founded BAC Investment Banking, an investment banking firm focused on M&A and capital raising. Previously, he held various roles, including CEO at DNT, a leading internet services provider, was director at Financial Advisory Services, Deloitte and Managing Director of Regent European Securities. Matei studied at Trinity College in Connecticut.
He will speak at Fuckup Nights Bucharest alongside Andreea Moldovan – Owner Pastry Chef at Love you Choux & Livrez Fericire, Dr. Mihail Pautov – medical specialist, surgeon and host of Medicool and Andreea Runceanu – violinist at Amadeus Electric Quartet.
The event will take place on Thursday, 24th of November, starting at 19:00, at Refugiu Urban – Palatul Universul.