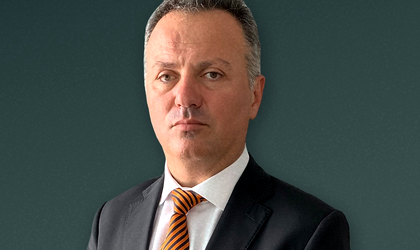 Laurentiu Ciocirlan (Managing partner, Equiliant Capital) will be a speaker at BR's Start-ups vs Scale-ups roundtable event, which will take place on June 13, between 9 AM – 11:30 AM, at 58 Stirbei Voda Street (5th floor). 
Laurentiu Ciocirlan is one of the most experienced investment bankers in Romania, with outstanding deal origination and execution skills in the M&A and capital market areas, having coordinated over EUR 2 billion worth of deals on the domestic market in sectors such as energy, utilities, manufacturing, consumer goods. He has deep knowledge of the Romanian business environment, with a particular focus on the SMEs, that drive much of the fast economic growth of the country, as well as extensive experience in strategy analysis and development in both advisory and non-executive Board member positions.
Equiliant Capital is a private equity fund dedicated to SMEs in Romania. Equiliant Capital is financed by Paval Holding, owner of the DIY chain Dedeman, the most successful entrepreneurial business in Romania.

BR's Start-ups vs. Scale-ups 2019 is meant to bring international know-how and good practices to Romanian start-ups and scale-ups, from legal experts, investment funds and successful start-uppers and scale-uppers.
Mission and vision: to help build, feed and support start-uppers and scale-uppers. BR & Schoenherr intend to offer the start-ups and scale-ups communities legal and funding advice as well as success stories from local entrepreneurs, so that they can reach their business goals.
This is why we're going to put these topics under the spotlight. We will be discussing things like:
What to consider when you're looking to raise funds
Tips and tricks for startups & scale-ups in protecting copyrights, patents, and trademarks
Be ready for an exit
Employee incentive programs
(legal) Pitfalls for start-ups & scale-ups
Venture capital transactions
Corporate venture capital
Shareholding schemes
Register at events@business-review.eu and get free entry at our event (valid only with prior confirmation from our team) and find out what makes start-ups and scale-ups succeed!