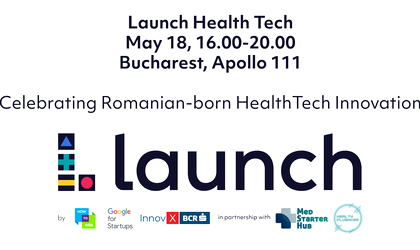 Launch, the community that supports Romanian early stage startup founders and tech talent, is organising, on May 18th, the first edition of Launch Health Tech. Through this event, Launch brings together the most active players in the health technology ecosystem to create new opportunities for innovation, research, collaboration, scaling and funding.
Launch Community, an initiative of How to Web, Google for Startups and InnovX-BCR aims to expand its work to support startups and democratise access to resources, by specifically addressing several industries and technologies.
After organising an event dedicated to the Deep Tech industry in 2022, this year, Launch organises the first edition of Launch Health Tech, in partnership with MedStarter Hub and with the support of Diana Mereu, Founder of HealthFluencer and Director of the Health Tech vertical within the Launch community. The event is focused on technologies that are transforming the medical industry (devices, IT systems, biotechnologies, artificial intelligence, blockchain, apps, etc.).
Launch Health Tech will take place on May 18th, at Apollo111, from 4:00 PM and the access is free.
"We aim for Launch Health Tech to become a benchmark for the local and regional HealthTech industry. This is the first in a series of events and actions dedicated to the HealthTech industry, held under the umbrella of the Launch community. Through Launch Health Tech, we give a clear and strong signal that HealthTech projects deserve all the support from all those interested in the progress of this industry in Romania." – Diana Mereu, HealthFluencer Founder and Launch Health Tech Director
Celebrating the health tech ecosystem in Romania
Launch Health Tech's objective is to create the necessary framework to celebrate and develop local projects in order to digitize the health industry. Startup founders, as well as representatives of the private and public healthcare environment, media or investors are expected at the event.
The list of confirmed speakers for this first edition includes Andrei Baciu, Secretary of State at the Ministry of Health, Sergiu Negut, Partner at Cleverage VC, George Manea, Senior Manager of the Life Sciences, Technology and Compliance department at KPMG, as well as others special guests, which you can find in the updated agenda of the event.
Among the Health Tech startups present on the event scene, there are Parol APP, ATLAS, Synaptiq, upgrade.health, Femyo.
MedStarter Hub, a new growth initiative in health tech
Launch Health Tech is organised in partnership with MedStarter Hub, a new initiative developed by Lucian Paraschiv, who is also the founder of Global Medical Solutions (GMS).
MedStarter Hub provides medical startup founders with access to equipment, R&D facilities, funding and partnership opportunities, as well as a new working and networking space.
More details will be announced during the event on May 18.
"There is a lot of potential in Romania for innovation through technology in the medical industry, but support and resources are needed in order to achieve significant results. Our objective is to promote Romanian talent, to provide access to the local and regional market, and to support MedTech startups from the very beginning. We are interested in any innovative idea, from medical hardware and equipment, to software and robots, to co-develop and rapidly launch in a continuously growing market." – Lucian Paraschiv, Founder GMS and MedStarter HUB
Launch Health Tech Agenda:
14:00 – 16:00 – Private demo and presentation session for founders and investors, invite based participation
16:00 – 18:30 – Public panel and presentation session, free registration-based access:

Panel 1 – Investor & Portfolio Company – "Investing in Innovative Healthcare Technologies"
Panel 2 – Accelerator & Alumni Network – "Accelerating HealthTech Innovation"
Panel 3 – Company & Enterprise Client – "Data Driven Corporate Wellbeing Programs"

18:30 – 20:00 – Networking
The full agenda is available here.
Launch Health Tech is organised in partnership with MedStarter Hub and with the support of Diana Mereu, and it is a Launch community event. Launch is a How to Web, Google for Startups and InnovX-BCR initiative.