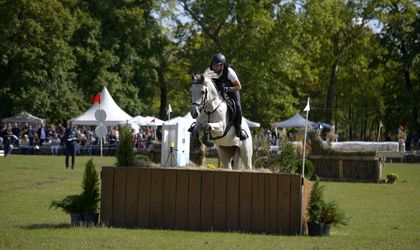 An exceptional weekend and an important step for Karpatia Horse Show, on the occasion of the 7th edition held on the Cantacuzino Estate in Floresti (Prahova). The 15,000 spectators who came during the three- day event enjoyed an extensive programme combining the horses' beauty, various activities and the posh moments prepared by the organisers. 
More than 100 horses and riders were involved in competitions during the three days: International Eventing Competition, Two-in -Hand and Four-in -Hand Driving demonstrations, Working Equitation, Vaulting – a unique demonstration of equestrian acrobatics presented by the Equs Art club from Oradea, and Doma Vaquera, Spanish dressage demonstration presented by Singureni Manor and David Guerrero Garcia, a professional trainer and instructor.
The winners of the Eventing  2* International Competition were Bulgaria (Letysia Dimitrova with her horse Cash, gold medal) and Hungary (Laszlo Egyed with Obora's Shut It Out, silver medal).
Romania's representatives were rewarded with seven medals in the competitions the National Eventing Compatition (Novice, Pre-Novice) and International Eventing Competitions (1* and 2*) , including two gold, three silver and two bronze medals.
Monica Holdiș with her horse North Star and Patricia Stoian with her horse Marcus won gold in the CCI1* and Pre- Novice categories; Călin Nemeș on Aiwan, Catalina Sfetea on Elliot Du Marquis, Biro Hanga on Chilli were awarded silver medal in CCI1*, Novice and Pre – Novice categories, while Adrian Gherghina on Jeronimo and Dora Kabai on Cyrill won bronze medals in CCI1* and Pre-Novice. They all competed in all three events in Eventing: dressage, cross-country, show jumping.
The spectators, who came in great numbers on Contacuzino Estate listened to live concerts by Luiza Zan & Ploiești Jazz, ZooM Band, MoonLight Breakfast and Alexandra Ușurelu&Band, who performed on the Little Trianon Stage and added an extra touch of "entertainment and show" to the equestrian event.
Visitors participated in guided tours about the history of the Cantacuzino family, enjoyed recreational horseback riding, creative workshops, rode electric bikes or simply walked their pets in the dendrological park and had fun in the Adventure Park. The Food&Drinks and shopping areas were significantly expanded and offered a variety of choices for a complete experience.
The most electrifying moment of the event came from the Grand Masters of Two- in-Hand and Four-in-Hand Driving demonstrations, including Eduard Bartha, winner of one of the 2015 World of Driving Championship competitions, who delighted the audience with his equestrian virtuosity. A  spectators' outfits parade, the elegant Morgan cars and other vintage retro cars parade, won the final applause of the seventh edition of the Karpatia Horse Show.
"It's great that the audience has started to actively participate in our story. During the three-day event, not only that there was a record number of spectators, but people were also having fun and dressed to the occasion, contributing to this beautiful story we have built over these seven editions! Many volunteers helped us this year and we received congratulations and support from the local community", said Mihnea Vîrgolici, Event Director
Karpatia Horse Show, 7th Edition is an event organized by: the Equestrian Association of Domeniul Cantacuzino, Domeniul Cantacuzino and Rumor Consult in partnership with the International Equestrian Federation and the Romanian Equestrian Federation.
Main partners: Pluriva, ENGIE România, AQUA Carpatica, Domeniile Sâmburești, Michelin, Gonzales Groupe, Glamour Floors, Martini, Metaxa, The Botanist, Zetea.
Partners: "Paul Constantinescu" Philharmonic in Ploiesti, Romanian Fencing Federation, MSL Logistics, Simar Industrial and Simar SA.
Media Partners: Magic FM, Adevărul, Dilema Veche, Historia, Newsweek, Business Review, Wall-Street, Start-up, Financial Intelligence, Revista BIZ, Transilvania Business, IQads, Smark, Grupul Observatorul PH, 9Am, Alist, Kudika, Garbo, Urban, TukTuk , Qbebe, Suntparinte, Clopoțel.ro, drovie.ro