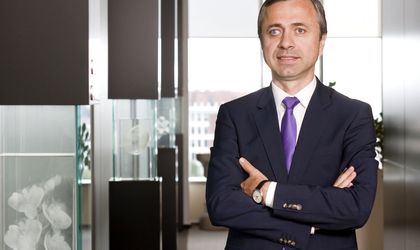 Ionut Simion, the Country Managing Partner of PwC Romania, will be a speaker at the sixth edition of Business Review's Foreign Investors Summit, taking place on October 29-30 at the Sheraton Hotel in Bucharest.
He will take part in the opening panel discussion: "Is Romania ready to enter the developed countries' club?"
"Romania wasted an entire decade between 1996 and 2006. Although in 1990 the difference between Romania and the other countries in the region was almost insignificant in terms of living standards, five years later the others had slowly begun to outline a plan, set out some objectives and targets, while we had nothing of the sort. This came to light when the first wave of Eastern European countries that joined the EU, ahead of us, in 2004. Three years may not seem like much of a difference, but they were decisive," Ionut Simion said in an interview with Business Review, which you can read in the October issue of our print magazine.
At PwC, Ionut Simion coordinates a team of over 800 professionals, including 22 partners, working on three service lines – Audit, Tax & Legal, and Management Consulting. Before he became the Country Managing Partner, Ionut was the leader of the Transfer Pricing team at PwC Central and Eastern Europe for 8 years, as well as an assistant member of the EU's Mixed Transfer Pricing Forum, and one of the pioneers of the transfer pricing field in Romania.
Ionut Simion is also in his second term as the President of AmCham. In this role, he was involved in talks and negotiations with Romanian authorities on several legislative initiatives which have had an impact on the Romanian business environment. At the same time, Ionut is a member of the Romanian American Foundation (RAF), an organisation whose mission is to promote and strengthen conditions for a sustainable market economy and a democratic society by supporting various projects related to civil society, education and eco-tourism.
A graduate of the Economic Studies Academy (ASE) in Bucharest, Ionut Simion has taught tax courses at both the ASE and the Law School of the Bucharest University, having been one of the founders of the first tax-related Master's programmes in Romania.
---
As of last year, Poland became a full member of the group of the most developed nations in the world, thus creating a path for Romania to join this elite group before long. Recent economic, political and social developments in our country, steady economic growth, a highly regarded Presidency of the Council of the European Union, reinforcement of the state policies through elections, have altogether created an ideal context for a new brighter perspective on the future.
• Is there a real evolution in Romania's development and how we are to benefit from the new global positioning of our country?
• Is a spike in FDI rate to be expected after two years of stagnation?
• Have the local markets reached maturity, especially those with a traditional appeal to foreign investors: energy, IT, real-estate, services, banking and agriculture?
Answers to these important questions and many more will be debated during a comprehensive analysis of the market and of the foreign investors' perception of Romania in the years to come.
Business Review proudly presents the 6th edition of the Foreign Investors Summit, the event that brings together foreign business communities, state authorities and diplomats. Join us, professionals across the main industries, an exceptional line-up of speakers and representatives of major FDIs in our country, for a discussion on leadership and ways to build a brighter and more sustainable future for Romania.