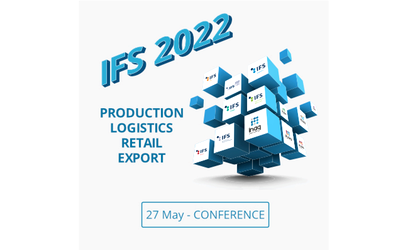 INAQ Consulting, together with their traditional partner, IFS Management GmbH, will organize the IFS 2022 Conference: Production, Logistics, Retail, Export. The 8th edition of the IFS Conference will take place on May 27, 2022 at the Marshal Garden Hotel in Bucharest, under the title "Production, Logistics, Retail, Export".
The IFS Romania conference is already a traditional event of the food industry and of the household and personal care products industry, which facilitates the meeting of specialists in the field, the reunion with partners, collaborators, customers, suppliers and certifiers.
During the conference, participants will learn the latest information from all areas of the supply chain, as well as related industries, new practices, innovative solutions for automation and digitization of processes, registrations, processing technologies, packaging, logistics, testing, product quality control and ensuring food security.
Furthermore, there will be news, approaches and solutions regarding IFS Food version 8!
In addition, top speakers have prepared a rich content, full of substance, novelty and innovation, which will be presented throughout the day of the event.
This year's edition also comes with a novelty – the roundtable! A debate on "Supply Chain Sustainability: Farms, Processors, Retail" will be held at the IFS 2022 Conference, at which experts, partners and customers will present and support opinions on this topic.
At the conference, INAQ Consulting aims to provide value through short interventions:
First part
8.30 – Welcome coffee
9.00 – Opening – Ionuț Nache, General Manager INAQ Consulting, IFS Representative in Romania
9.10 – IFS news, new development directions – Stephan Tromp, Managing Director IFS Management
9.30 – IFS Food 8 – details, news, context – Chryssa Dimitriadis, Director IFS Standard Management
9.50 – Approaching sustainability from an IFS perspective, IFS HPC V3 News – Helga Barrios, IFS Senior Technical Project Manager, IFS Representative Spain
10.10 – IFS Logistics 2.3, the benefits of implementation, examples of good practice – Beata Studzińska-Marciniak, IFS Standard Manager
10.30 – Poland Experience – Marek Marzec, IFS Representative Poland & CEE
10.40 – INAQ Data & Research and INAQ Branding – new services of INAQ Consulting – Ionuț Nache and Mihai Coliban
11.00 – CMC presentation – Marius Maier, Managing Partner
11.15 – Lean management in the food industry – qualified approach and international expertise – Sorin Petcu, General Manager Lean Vector
11.30 – 11.45 Coffee break
Second part
11.45 – Presentation of TESTO – Horațiu Basa, General Manager
12.00 – Presentation AXIVEN – Angelos Spiliotis, Managing Director
12.15 – AB Technical Presentation – Adrian Balaoi, General Manager
12.30 – Presentation of IMARK System – Romeo Turleanu, General Manager
12.45 – Presentation "Clinical study: When, how and why" – Alina Nanu, General Manager Eurofins Evic
13.00 – IQ Lab presentation – Cleopatra Neagu, General Manager
13.15 – Salesianer Presentation – Adrian Chiorean, Managing Director
13.30 – AA Data Box presentation – Alis Patlageanu, Managing Partner & Adriana Ceausescu, Managing Partner
13.45 – 14.30 Lunch break
Third part
14.30 -16.30 Round table: The concept of sustainability, ESG in the supply chain
Oana Grosanu – Executive Director, Embassy of Sustainability in Romania
Aintzane Esturo – Technical Director, IFU International Fruit and Vegetable Juice Association
Adela Jansen – Certified Independent Board Member
George Badescu – Director Executiv AMRCR
Ionut Georgescu – Founder & CEO FEPRA
Dan Ceausescu – Sales & Marketing Director Urban SA
Gabriel Biris – Founding Partner Biris & Goran
Constantin Damov – President of Coalition for the Circular Economy
Arie Veldhuizen – Agricultural Counsellor Embassy of the Netherlands
Dragos Neacsu – CEO of GS1 Romania
Ionut Nache – INAQ Consulting, General Manager INAQ Consulting – IFS Training Center
Cocktail & networking
Business Reviews looks forward to seeing you at the Conference! Sign up here!