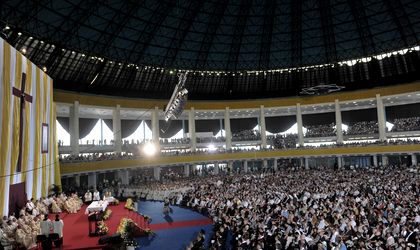 Monsignor Vladimir Ghika, a Roman Catholic priest and Romanian prince, was beatified on August 31, being declared 'blessed' in a Solemn Liturgy presided over by Pope Francis's envoy Cardinal Angelo Amato, the Prefect of the Congregation for the Causes of Saints. Vladimir Ghika's martyrdom for faith was acknowledged by Pope Francis on March 27 this year.
Ana Boariu
13 December, 1948.
In a letter written to his brother Dimitri, a retired diplomat and minister of Foreign Affairs, exiled in Switzerland, Vladimir notes, "Everything is surveillance and suspicion. The anguish is terribly difficult to overcome. Although, I'm not familiar with it and it sometimes disappears by miracle, like the other day when a seven-year-old girl came and knocked on my door. Dialogue after two knocks. 'The Lord is praised!' – 'Forever and ever!' – 'What do you want, girl?' – 'Nothing, I just came to stay with you.' – 'Why?' – 'I took pity on you.' The anguish suddenly disappeared after a bright reflection: if this girl, who is in no way related to me, took pity on me, how could God, who is all to me, leave me in distress?"
The little girl was one of the orphans cared for by the sisters in the orphanage and hospital of Saint Vincent de Paul, in Bucharest, just months before it was nationalized by the totalitarian regime. It had been the first catholic hospital in Bucharest that included a free dispensary service for the poor, and the first ambulance service, a project initiated by Vladimir Ghika in 1906, along with his sister Pucci.
In his letters, sent in secret through the Embassy of France, Vladimir Ghika told his cadet , step by step, what was happening in Romania from 1948 to 1952. The two brothers were separated early in 1948 when, after the forced abdication of King Michael, they chose different paths. Dimitri and Vladimir were among the very few who were allowed to leave with the King in exile, as Elisabeth, Dimitri's wife, was lady-in-waiting to the queen. Dimitri chose to leave and go to his daughter in Geneva, while Vladimir opted to stay, fully aware of the disaster that was about to begin.
As a descendant of a Romanian princely family – his grandfather had been the last ruler of Moldavia and his great-uncle the ruler of Walachia, before the two countries united in 1856 – Vladimir Ghika had an incredible political lucidity, as well as the will to fight against any injustice in a peaceful but effective way. In his youth, Vladimir studied law and political science, but then turned to theology when he converted to Catholicism in 1902.
He spent years helping the poor and those in need, from soldiers in World War I and the uprising peasants in Romania in 1907 to the poor on the outskirts of Paris, and became a priest in 1923. Ghika was also involved in establishing diplomatic relations between the Vatican and Romania: he helped draw up the text of the Concordat and to research the archives and reestablish the historic truth of diplomatic and religious relations between the Vatican and the Romanian countries . For keeping this relationship alive, especially that between the Romanian Catholic Church and the Vatican, during the Stalinist era, he was arrested in 1952 along with 12 other priests and laypeople. He was convicted mainly for helping letters get from the Vatican to the bishop's substitute in Bucharest, Mgr. Menges, and was sent to prison for three years. He died in the prison of Joilava, on 16 May, 1954.
Vladimir Ghika was aware of what would happen to him. In 1948, he had his doubts and his moments of anguish. Unlike others, in the midst of terror, he found the wisdom to see, in each little incident, the presence of God. And he had the strength to comfort others. Matei Boila, who met him for the first time in prison, recalls the moment. "I went and asked him the universal question. Whoever got there for the first time was asked that. We were interested in getting news from the outside. So I said: 'Monsignor, When will we be liberated?' I saw him smiling. And I don't know… I suddenly realized what a stupid thing I had just said. I was asking when we would be free again, but he was the freest man I ever saw in my life." Vladimir Ghika lived the life of a saint and died in prison as a witness of the Christian faith. On 31 August, the Catholic Church acknowledged that, declaring him blessed.