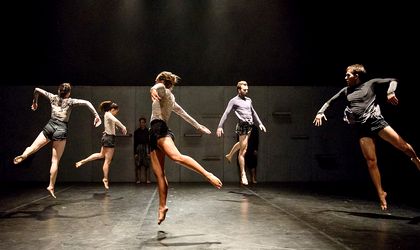 During this 24th edition of the International Theatre Festival Sibiu(FITS), the public is also delighted with an incredible selection of ballet and dance companies from all over the world, such as Vertigo Dance Company, Batsheva Dance Company, Maria Pages Compania, Kibbutz Contemporary Dance Company, Andalusian Flamenco Ballet, Branda Angiel Aerial Dance Company, Compagne Herve Koubi, Ambiguous Dance Company, Gigi Caciuleanu Romania Dance Company. But every contemporary dance lover knows that any Israeli dance company means pure joy for those who are lucky enough to be in the public. These people are simply amazing: sometimes, my feeling is that they are levitating, not dancing.
Vertigo Dance Company has returned at FITS this year with two outstanding performances, Vertigo 20 and Yama. Both performances were applauded by one of the legends of the performing arts, Mikhail Baryshnikov, who's at this festival presenting Brodsky/Baryshnikov one-man show.
Vertigo 20 weaves together 20 years of the Vertigo Dance Company's creations from its inception. "Choreographer Noa Wertheim follows the trail of pebbles she laid, as if re-deciphering the secret of time. As stitches between the private and the public are unravelled, she moves from real to surreal, from intimate to theatrical, from impalpable to tangible. The Vertigo 20 unique body language accentuated by wit and hinted sadness delivers a spectacular staging of rituals", says the official description of what you are going to see on stage.
But there is more. There is a one hour journey to a spectacular world of precise movements and incredible music. Dancers are dressed as clowns, but the atmosphere remains sophisticated, having also a poetic moment of white balloons filling the stage. It's a mesmerizing experience, as you can see in the trailer below.
On the other hand, Yama explores human ecological footprint, dependency and the capacity to regenerate, as the choreographer Noa Wertheim observes the source of each movement and its effect on the environment through this inspiring new piece.
Yama presents dancers dressed in flowing black fabric, which amplifies their their faces, arms and legs, presenting kind of a ritual movements. As performance happens, new elements are visible as well as a outstanding accordion solo performance while dancing. Truly, deeply mesmerizing.
Photos courtesy of FITS